US State Department To Host Liberian Diaspora Talks In Washington, D.C.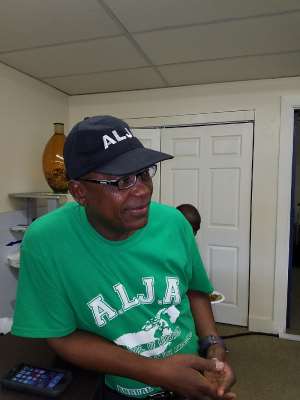 New Castle, Delaware---The Bureau of African Affairs at the US State Department will this week bring together representatives of the Liberian Diaspora for discussion about change, progress, reconciliation, and Liberia's future as the country prepares for its first peaceful transition of power between democratically elected leaders since 1944. On October 10, 2017, Liberia will hold general and presidential elections. This year's presidential election will climax Mrs. Ellen Johnson-Sirleaf's second term presidency.
Mrs. Johnson-Sirleaf was re-elected for a second term in 2011. She initially ascended to the Liberian presidency in 2005 when she was democratically elected as Liberia and Africa's first female Head of State following the country's protracted civil war, which started on December 24, 1989. She is Liberia's 24th elected president.
The Liberian Diaspora talks will be held on Thursday, October 5, 2017 at 3:00P.M. at the State Department in Washington, D.C. and it will bring together several eminent US based Liberian Community organizations. The Union of Liberian Associations in the Americas (ULAA), Association of Liberian Journalists in the Americas (ALJA), United Bassa Organizations in the Americas (UNIBOA), Liberia Ministerial Alliance of North America (LIMANA), Liberian Community in the Washington, D.C. Metropolitan area, and several others are expected to be represented at the meeting.
According to an ALJA press release issued on Monday, October 2, 2017, attendance and participation in the meeting are by invitation only. ALJA is charged with the responsibility of mobilizing and coordinating US based Liberians for the talks. "Per our conversation, please proceed with starting coordination and planning to convene a group of the Diaspora community on October 5 to discuss the upcoming elections. This would be a follow-up to our last discussion as promised," Mrs. DenieceYeboah, the US State Department's Desk Officer for Liberia and Sierra Leone penned in a September 21, 2017, email sent to the ALJA National President.
On August 16, 2016, similar meeting which brought together representatives of US based Liberian community organizations was held at the State Department. The purpose of the Liberian Diaspora talks is to gather diverse views from the Liberian Diaspora on temporary matters that are critical to the sustenance of the Liberian democracy and peaceful co-existence in the country. The August 16, 2016, discussion dwelled on matters regarding change, press freedom, progress, reconciliation, determination, and hope for a stable Liberia.
Meanwhile, ALJA will be represented at the high profile gathering by a four man delegation led by the ALJA National President, Moses D. Sandy. Members of the delegation are the Chairman of the ALJA National Board of Directors, Volcano Shelton and National Board member, Samuel Abu. Also, on the delegation is Mr. Jackson T.S. Seton, President of the ALJA Delaware Valley Chapter (Del-Va). ALJA was founded in 1998 in Washington, D.C. and it seeks to promote and foster companionship amongst its members and their American counter parts. The Association is also, committed to the advancement of press freedom and the principles of good governance in Liberia through media advocacy and training.
Signed: _______________________
Charles Crawford
National Secretary General
ALJA
Approved: ___________________________
Moses D. Sandy
National President
ALJA