Akufo-Addo Congratulates Affail Monney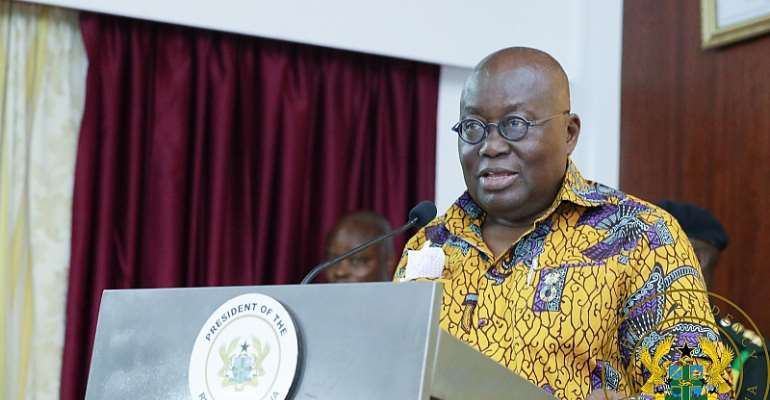 President Akufo-Addo has congratulated Affail Monney for his victory in the recently held presidential election of the Ghana Journalists Association (GJA).
He said he was hopeful the Association in the next few years will contribute to the growth of a "vibrant and critical media."
In a statement issued on Monday, October 02, 2017, Akufo-Addo also commended the losing aspirants for conceding defeat.
"I extend warm congratulations to the entire membership of the Ghana Journalists Association (GJA) for the successful conduct of their elections of Friday, 29th September, 2017, which saw the selection of executives to steer the affairs of the Association for the next four years."
"I congratulate Affail Monney on his decisive re-election as President of the GJA; Linda Asante Agyei as Vice President; Edmund Kofi Yeboah as General Secretary; Mary Mensah in-charge of Public Affairs; and Albert Tuffuor as Organising Secretary. The losing aspirants are also to be commended for graciously conceding defeat," he statement said.
"It is my hope that the Ghana Journalists Association and its leadership, over the next four years, will continue to contribute to the growth of a vibrant and critical media that has won Ghana the reputation of having one of the most media friendly and liberal climates on the continent, and also to the enhancement of public accountability as a strategic goal of public policy," Akufo-Addo added.
Affail Money retained his seat as President of the Ghana Journalists Association (GJA), after a landslide victory in polls held on Friday.
Despite expectations of a stiff competition from Lloyd Evans and Johnny Aryeetey, both managed to share less than half of the total valid votes cast.
Mr. Monney garnered 310 of the 510 valid votes cast.