The Rule of Law in Action at the University of Education, Winneba (UEW)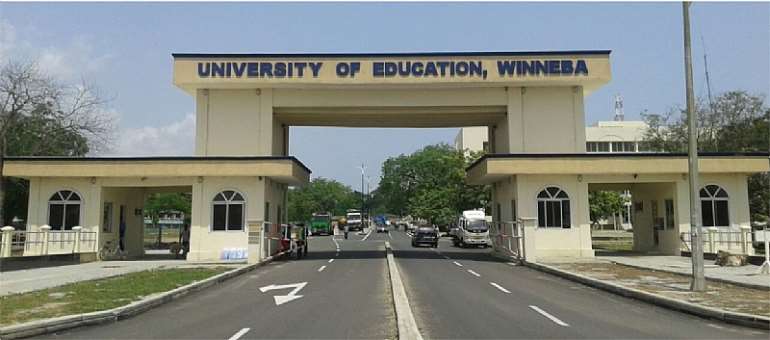 In a book titled "The Law of the Constitution", A. V. Dicey analysed the 3 main concepts of the Rule of Law (ROL). This write-up, attempts to link the second concept of the ROL, (no man is above the law; every man and woman, whatever be his or her condition, is subject to the ordinary law of the land and amenable to the jurisdiction of the ordinary courts), to some recent happenings at UEW.
The second concept is basically the notion of equality before the law. All citizens are under a duty to obey the same law.
A few years ago, a senior member of UEW had the opportunity to attend an official programme in the USA. One of the funding organisation's condition was that the cost of the air ticket was to be refunded to the purchaser at a later date. A sitting Vice Chancellor (VC) at that time, accepted in principle that UEW provide the air ticket, and be reimbursed later. A certain individual at the Finance Secretariat of UEW, argued that purchasing the air ticket would constitute a misapplication of public funds, and as a result, UEW declined to foot the cost of the air ticket.
Wouldn't it be misapplication of public funds to pay a public official who is not performing official functions as a result of a court order, their basic salary in addition to any allowances?
Yes, it will definitely amount to a misapplication of public funds in the eyes of right-thinking members of society. Therefore, in a directive to the salary handlers of UEW, some officials of UEW who at the moment are incapable of performing their official duties because of a court order, were also paid their basic salaries without any extra allowances at the end of September 2017, in order to give effect to A. V. Dicey's second concept of the ROL (no one is above the law). An even application of the concept of misapplication of public funds.
To give further meaning to the second concept of the ROL, UEW had no option other than write to the management of Ghana Oil Company Ltd (GOIL) Winneba, to stop misapplying UEW funds by way of fuelling vehicle registration numbers; GN 4731-16, GN 6643-13, GE 6355-16, GE 5780-15 and GN 6484-13, since the officials in whose custody these vehicles are, no longer carry out any official functions on behalf of UEW.
UEW was compelled to take this line of action because, the officials in question have previously defied a directive to return the above UEW vehicles.
It is clearly a misapplication of public funds to continue to pay allowances or bear the cost of fuel for public officials who are not carrying out official functions.
The son of a peasant farmer has no time or fear for those 'rats and rabbits' who attempt to rock the boat by way of their cowardly emails or lack of legal substance rejoinders, which fails to counter the legal arguments he puts out, but merely resort to insults. I urge such 'rats and rabbits' to settle their alleged union's embezzled t- shirts funds, which they claimed to have used for real estate development before they get out of their 'rat holes' and get re-educated to enable them have an informed opinion, and not the helter-skelter type of submissions they are currently engaged in. Furthermore, threats of court actions against the son of a peasant farmer, or live court actions, cannot, and will NEVER put an end to the peasant farmer's son quest to hunt down the 'elephants'. This is why valuable time cannot be expended on 'rats and rabbits'. If you believe that you are a 'rat' or a 'rabbit', then sue me for defamation. Am too good to descend into a 'rat race'.
Anyone threatening the son of a peasant farmer with a defamation suit, should abreast themselves with the definition of defamatory statement established in Parmiter v. Coupland (1840) 6 M & M 105) that, it is a statement calculated to injure the reputation of another, by exposing them to hatred, contempt or ridicule, and Sim v. Stretch [1936] 2 All ER 1237 (HL) continued that, such a statement, tends to lower the 'claimant' in the estimation of right-thinking members of society. Apologies to those who still uses the class one expression, "character assassination". Does an alleged attempt to bring feuding parties to a meeting to sort out their differences, lower that person's standing in the estimation of right-thinking members of society?
The law does not require a person accused of a defamatory statement in his retraction and apology statement, to send it off to the legal representative of the claimant for approval before it is published.
UEW finds itself in the current legal tussle, because of alleged disrespect for some laws of the country.
For example, the award of all public entities contracts, must be in accordance with the Public Procurement Act 2003 (Act 663) and its amendments, period! Therefore, awarding a contract via any other method, is a clear breach of the law. No Memorandum of Understanding (MOU), or a letter from the President of Ghana, can take precedence over the 1992 Constitution or an Act of Parliament.
It is the candid opinion of this writer that, we all endeavour to respect the relevant laws of this country, be it barristers, solicitors or laymen, and not 'cook up' our own way of doing things.
Let it be made clear to those threatening the son of a peasant farmer with voodoo, shrines, physical attacks and court actions that not even guns aimed at his head, will make a difference!
Before signing off, I will grasp the opportunity to wish a colleague well in his quest for an LLB degree. I was in Accra on Saturday 30th September 2017, and 'trespassed' into MountCrest University College, and stumbled on a colleague paying rapt attention as a student in an undergraduate law lecture class.
I have over 50 law textbooks bought from my sweat during my studies in the UK, and not acquired by subtly using UEW funds. My textbooks are available to this colleague and any other reasonable person pursuing LLB or LLM programme.
It is the fervent believe of the writer that, this article will serve as a catalyst for the cheap, mean and nasty faced Victor K. Owusu to shed his cowardice and incompetence and sharpen up for a real challenge.
I remain unfazed and more determined than before!!
Alhassan Salifu Bawah
(son of a peasant farmer)