Lands and Natural sources Minister, John Peter Amewu has disclosed that the ban on small scale mining will be extended.
He said initial assessment of the ban shows only 15 percent of the set target has been achieved making it improper to lift the ban.
The minister made the announcement on Sunday at Modaso, a mining community in the Amenfi East district of the Western region when he inspected the concession of Canada, Ghana and Alaska mining company.
Shortly after assuming power, the New Patriotic Party declared a ban on small scale mining as part of efforts to fight the activities of illegal mining popularly called galamsey.
Galamsey has fouled the environment, polluted rivers and destroyed many farmlands.
The government hoped by the institution of a three month ban and a constitution of anti-galamsey taskforce, the activities of illegal mining will be reduced drastically.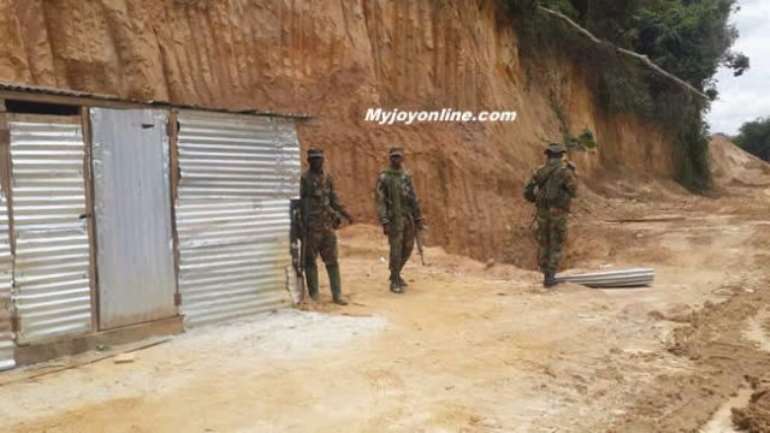 Some military men with the Operation Vanguard taskforce were present during the minister's visit
But the Minister says very little has been achieved thus far and there was the need to keep the ban in place.
His comments come after community members accused the Canada, Ghana and Alaska mining firm of defying the ban on small scale mining.
The Minister also announced that Small scale mining licences secured during the last days of the former administration will not be recognized because it was done haphazardly.
Going forward, the minister hinted that about 70 percent of small scale miners would have to secure fresh certificates if they want to remain in business.
The move according to the minister are part of government's effort to ensure sustained mining in the country and also protect the heavily polluted water bodies in the country.