5 University Senior Staff Associations Sever Ties With FUSSAG-TUC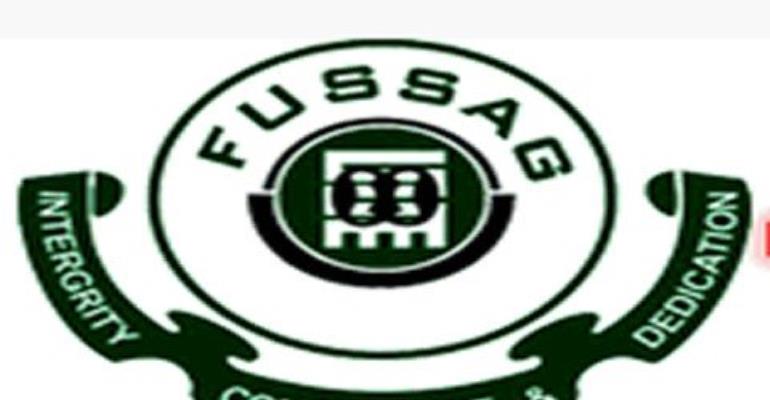 About five members of the Federation of Universities Senior Staff Associations of Ghana (FUSSAG - TUC) have announced their withdrawal of their membership from the Association.
The decision which is to take immediate effect was arrived at after consultations with the TUC and the Vice-Chancellors Ghana.
The members in a statement, have among other things accused their leadership of not accounting to them and failing to organize elections to elect substantive executives to head their union.
They also chastised the current national executives and the general secretary of breaching the Association's constitution.
Below is a copy of the statement
Further to a resolution passed at a Meeting of elected officers/representatives held on Saturday 22nd July, 2017 at Windy Lodge, Winneba and consequent upon the reaffirmation by members on various campuses, the Senior Staff Associations of the Kwame Nkrumah University of Science and Technology (KNUST), University of Mines and Technology (UMaT) , University of Cape Coast (UCC), University for Development Studies (UDS) and University of Education, Winneba (UEW) announce the withdrawal of membership from the c with immediate effect.
The landmark decision which was reached after broad consultations with the Trades Union Congress (TUC) and Vice- Chancellors Ghana (VCG) was informed by the following:
• Breaches of FUSSAG National constitution by the current national executives (including the General Secretary).
• Failure of FUSSAG national to successfully negotiate the market premium, risk allowance, electricity rebate and non-enforcement of the award of post allowance delayed (PAD) for members.
• Failure of FUSSAG national to render audited accounts since 2012.
• Failure of FUSSAG national to adhere to directives given by TUC to resolve the UCC & KNUST impasse since August 2016.
• Failure of FUSSAG national to adhere to TUC directives to take steps to address the inconsistencies in the FUSSAG constitution especially with respect to the issue of permanency of the position of the General Secretary which contravenes the constitution of TUC and best practices.
• The continued stay in office of the interim FUSSAG Executive Council formed in 2012 at Tamale in obvious breach of constitutional provisions.
• The improper organisation and unjustifiable adjournment of Conference in August 2016 at the University of Ghana, Legon - Accra.
SOME ESSENTIAL FACTS
• The five (5) Local Associations constitute over 70% of the entire membership of the Federation of Universities Senior Staff Associations of Ghana (FUSSAG - TUC).
• Per the decision taken, the National Executives of FUSSAG lacks locus to represent us in all negotiations/dialogue henceforth.
• A new Union is in the offing and would be outdoored in due course.
Signed:
Abdul Majeed Yussif
(Chairman, University Senior Staff Association of Ghana, UDS Branch)