Lotto Bonanza Stakers Win A Whopping ¢7bn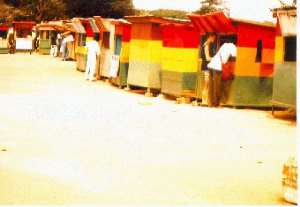 A total of 500 fortune seekers on Wednesday, June 22 recorded the biggest win in Ghanaian gambling history with a ¢7 billion bonanza against the Department of National Lotteries (DNL).
The DNL, which has been bagging an average gain of ¢1.1 billion a week, described the stakers' gain as a real shocker and its heaviest loss ever.
On the average, it has been paying between ¢300 million and ¢400 million in gains to stakers. According to the department, the numbers that did the damage to the DNL but enhanced the fortunes of the stakers were 19-25. The biggest individual win was ¢320 million.
It said the highest winner, a customs officer in Accra, has been consistently staking ¢1.5 million over the past five weeks.
Mr Charles Mensah, Deputy Director, Finance and Administration of the DNL, who confirmed this in an interview, said, "This is a real shocker to the DNL because it is the biggest win for a draw in our history." The windfall, he said, had sent many banker-to-banker operators fleeing because they would not be able to pay on the winning tickets against them.
He said those illegal operators always pirated the numbers of the DNL to make money but escaped when the stakers hit the jackpot.
Mr Mensah said it was against that background that the DNL had always encouraged the people to patronise the DNL because its payment was prompt, no matter the amount won.
He said although the win was very high, the DNL had the capacity to pay the winners "and we have started paying since this morning".
"It is also important to note that the money the department makes every week is paid directly into the Consolidated Fund, which is used by the government for development purposes," he added.
Explaining how the massive win happened, Mr Mensah said the department had sensed danger since last month because many people, including the lotto forecasters, predicted the numbers but were not successful in the first four weeks until yesterday.
"Some stakers have been timing the numbers for four weeks and were staking them every week. Luckily for them, and unfortunate for us, they "chopped" us big," he said.
Mr Mensah said the average win was between ¢13 million and ¢14 million per individual.