Dr Kwasi Amakye Boateng Got It Wrong; Bagbin Stands Tall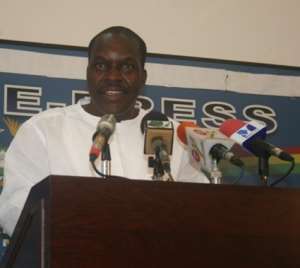 We have read with awe and shock media reports attributed to one Dr Kwasi Amakye Boateng, a political science lecturer at KNUST concerning Hon Alban S. K. Bagbin, Second Deputy Speaker of Parliament and MP for the Nadowli/Kaleo constituency on the matter of his intention to contest the Presidential primaries of the NDC for the 2020 elections.
Dr Boateng is reported to have said that the Rt Hon. Bagbin cannot be deemed incorruptible and trusted as far as the fight against corruption is concerned and as such he cannot be entrusted with the high office of flagbearer and ultimately as President. Such sweeping and loose talk cannot go without response.
We are convinced that Dr Boateng knew the effect and collateral damage such pedestrian remarks could exact on the reputation of Hon Bagbin. He nevertheless proceeded to make them with reckless abandon.
We have no option than to call on Dr. Boateng to substantiate the remarks or humbly retract same and apologize to the Hon Second Deputy Speaker of Parliament. Failure or refusal to do so will mean Dr. Boateng has opted to chart the path of hate speech rather than responsible discourse.
We will be left then with no option than to take any legal and relevant action to clean the mud that he has thrown at the Second Deputy Speaker.
Dr. Boateng cannot claim ignorance of the impeccable record of the integrity of Hon Bagbin in the public service. The Second Deputy Speaker of Parliament is among a few number of Ghanaians who have demonstrated a strong aversion to corruption. Dr. Boateng's remarks are therefore despicable and in bad taste and cannot be said to represent the character or conduct of Hon Bagbin.
Dr. Boateng should be advised that Hon Bagbin is ably supported in his quest to serve in the highest office of the land by Ghanaians from all walks of life defying partisan, ethnic, religious, gender and academic divisions.
As an academic, we know that Dr. Boateng will do the honorable thing to prevent any further action by us.
A word to the wise is in.....
Signed
Konnuba Joseph
(Spokesperson)
Youth For Bagbin
(0240088811)