Asantehene Otumfuo Celebrates Emeritus Prof. Nketia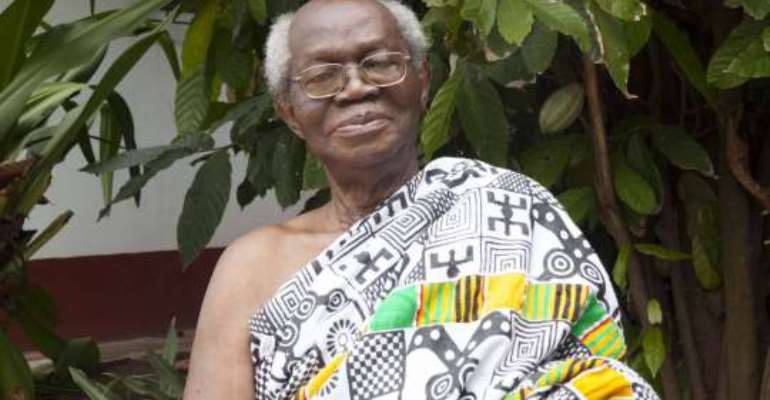 Accra, Sept. 28, GNA - Otumfuo Osei Tutu II, the Asantehene, has described Emeritus Professor Joseph Hansen Kwabena Nketia as a national treasure who underscores the truism of nation building, which encompasses more than political and economic developments.
'Emeritus Prof. Nketia's life symbolises the evolution of our nation in the 20th Century. There are many parallels in his life's story, which mirrors the national endeavours in the country.
'A bridge between our indigenous culture and modern culture, non-literate and literate traditions, old and young artists, Ghana and Africa in the dissemination of African music, a bridge between Dr K. A. Busia and Osagyefo Dr Kwame Nkrumah in pursuing our national objectives,' Otumfuo Osei-Tutu said in a speech read on his behalf in Accra at a festival to celebrate Emeritus Nketia's 96 years of exemplary life and scholarly achievements.
Emeritus Prof. Nketia is an astute scholar-researcher in the Twi Language and ethnomusicologist. An eminent instrumentalist with over 80 classical African music compositions as well as 200 scholarly publications not only in English but also in Twi, which he used as a vessel to write more than 20 books.
The Asantehene said the astute Scholar-Researcher's life forged national unity through the musical medium under Osagyefo Dr Kwame Nkrumah, the first President of Ghana, even though he faced a national challenge of the duality of Western culture and the Ghanaian culture.
Otumfuo Osei-Tutu said his achievements challenged Ghanaians to consider whether they had entirely emerged from the corrosive and trifling effects of the 'colonial and missionary interventions.'
'The greatest tribute we can pay to the living legend of Emeritus Prof Nketia is to carry his work to its logical conclusion and create a national consciousness sustained by his cultural heritage whilst celebrating the blessings of modern technology'.
He congratulated Prof. Nketia for his illustrious achievement on both the local and international scene, saying; 'There was the crucial cultural component of our national endeavours of which he was an eloquent creative centre bearer'.
Emeritus Prof. Nketia, in his speech, said the country must value its traditions and see how to improve on them using experience from outside rather than competing with them.
'We should take more pride in our tradition and see how we can improve on them and use the experience we get from outside to improve on our own instead of focusing on choral group abroad,' he added.
He urged Ghanaians to buy more of the country's local songs and not rely on foreign songs some of which were thought in the colonial era.
Prof. Nketia commended the rate of improvements by educationists in the country and urged all to move from the colonial period and be abreast of modern trends of music.
An exhibition on the life and works of Emeritus Prof. Nketia was organised to showcase and memorialise his versatility as a composer, a celebrated ethnomusicologist, a prolific writer and a living-legend scholar.
A fundraising ceremony was organised with a target of GH¢ 500,000 in the form of donations, sponsorship and sales of books and portraits of the living legend.
The fundraising is aimed at expanding the African Library facilities at the Kwabena Nketia Centre for Africana Studies, collate, digitise and preserve his thousands of archival files and 80 classical African music albums.
The President, Nana Addo Dankwa Akufo-Addo, Former President Jerry Rawlings and his Wife Nana Konadu Agyeman Rawlings, and representatives from Former President John Dramani Mahama and Former President John Agyekum Kufuor, graced the occasion.
Others include members of the Council of State, National Council of Chiefs, Ministers of State, Members of Parliament, Office of the Chief Justice and Members of the Judiciary.
GNA
By Kodjo Adams/Papa Yaw Twum Danso, GNA