#GJA Elections: How Former GJA President's Name Was Omitted From List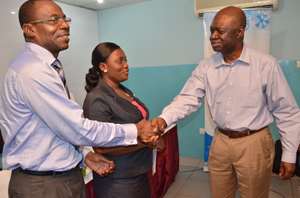 Accra, Sept. 29 CDA Consult – The former President of the Ghana Journalists Association (GJA) Mr Edward Ameyibor's name missing from the list for former GJA President for the Journalists Election.
Mr Ameyibor known in journalism circles as "Oga" have served the GJA under various leadership capacities even after his dedicated service as GJA President during the difficult developmental stages of the association.
Mr Edward Ameyibor, former Supervising Chief Editor of the Ghana News Agency was surprised that his name was omitted by the GJA Elections Committee.
Mr Edward Ameyibor for several years also served as GJA Annual Awards Committee Chairman.
Mr Ameyibor, the current Secretary General of the Social Security and National Insurance Trust (SSNIT) Pensioners Association expressed surprise and shocked for the omission.
In an interview, Mr Kwesi Kpodo, GJA Elections Committee Member described the omission of Mr Edward Ameyibor's name from the GJA voter's lists as shameful and embarrassing.
Mr Kpodo explained that the GJA Election list was compiled by the GJA secretariat and apologized to Mr Edward Ameyibor for the embarrassment.
The GJA listed Ms Ajoa Yeboah- Afari, Mr Kabaral Blay-Amihere and Ms Gifty Afenyi-Dadzi as former GJA President.