Planting For Food And Jobs Must Maximise Existing Farmlands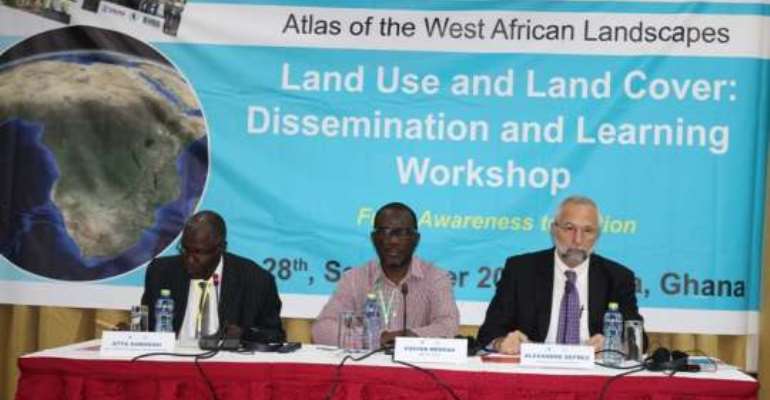 Accra, Sept 27, GNA - Ghana must intensify efforts to get the maximum yields from existing farmlands under the Planting for Food and Jobs programme, experts have advised.
This is because wanton cultivation of new lands would lead to degradation of the environment, depletion of the soil nutrients and loss of biodiversity, which would not be in the interest of future generations.
Mr Foster Mensah, the Executive Director of the Centre for Remote Sensing and Geographic Information Services, at the University of Ghana, Wednesday, cautioned: 'For the next 10 years or 15 years, if we do not manage what we have, we will still be depleting and extending,' he cautioned.
Mr Mensah was speaking at a workshop to disseminate information on how to utilise an Atlas on Land Cover and Land Use, developed by the USAID, and its partners for West African countries.
'This is the time for us, using these data sets to see how we can begin to use our land and natural resources better,' Mr Mensah said.
Mr Alexander Deprez, USAID's West Africa Mission Director, said instead of expanding the land cover of agricultural lands to the detriment of other land uses, they should promote the efficient use of current lands to increase yields, while preserving the fertility of the soil.
Speaking to the GNA on the sidelines of the workshop, Mr Deprez said the expansion of agriculture in West Africa, including Ghana, over the years, had yet to deliver significant gains in productivity, though it had led to a loss of forests, woodland and soils; as farmers expanded their farmlands in other land covers.
'Without doubt, the productivity and performance of the Agricultural sector across West Africa is seriously challenged, and the governments and people of the region still live with the threat of a food crisis,' he stated.
This expansion of agricultural land was one of the most obvious land cover changes in Ghana, as shown by the Atlas developed by USAID and its partners.
It is titled, 'Landscapes of West Africa: A Window on a Changing World", with the largest increases seen in the Northeast, East-central and South-western parts of Ghana; and followed by the degradation of the forest.
From 1975 to 2000, agricultural lands expanded from 13 per cent to 28 per cent of Ghana's total area, and continued rapidly, reaching 32 per cent of land area in 2013.
Forest degradation showed a slight decline in area from about 1,400 square (sq) kilometres (km) in 1975 to 15,500 sq km in 2000.
It, however, accelerated sharply between 2000 and 2013 with forests reducing by an additional 20 per cent in 2013.
Mr Deprez said there should be more support by governments, donors and private sector to increase productivity, especially for small scale farmers.
The aim, he noted, must be on increasing yields on current farms by the use of inputs such as fertilisers; either chemical or organic, and improved seeds, better use of water and land cover, as well as other elements like access to markets, investments in processing among others.
It was also important, he said, for governments, donors and private to look at ways of adapting the technologies used of large commercial farms to intensify agricultural production at the small-scale level.
Professor Sanoussi Atta, the Head of Training and Research Department, CILSS/ARC, said continuing on the same trend on farm land expansion, as revealed in the time series observed in the Atlas, would mean increased forest degradation and extinction of some animal species in the future.
This, he said, called for decision makers to conscientise their populations, especially the younger generation, on the issues of degradation to preserve the environment for future generations.
'It is important for the country to make better policies on how to preserve and conserve the land,' he stated.
Prof. Atta urged national governments and other stakeholders to widely disseminate the Atlas, which he said, was also available for free online, so that people could use it in solving the problems as well as for advocacy.
GNA
By Belinda Ayamgha, GNA