Farmer fined 500,000 cedis for cruelty to animal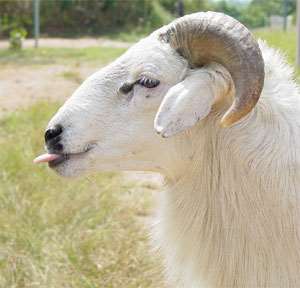 Asamankese, June 24, GNA - Isaac Ofosu, a farmer, has been fined 500,000 cedis by a circuit court at Asamankese for showing cruelty to an animal.
Ofosu pleaded guilty with explanation to intentionally and cruelly beating a pregnant goat to death and was ordered to pay 300,000 cedis as compensation to the owner, Mr Kofi Mensah. Ofosu pleaded not guilty to a second count of threatening Madam Victoria Tugbenyor, Mr Mensah's wife and the court admitted him to a self-cognisance bail in the sum of one million cedis to re-appear on July 6.
Prosecuting, Police Chief Inspector John Gyimah said both the couple and Ofosu lived in the same vicinity at Akanteng in the West Akyem District of the Eastern Region.
He said the complainant had a she-goat that always gave birth to triplets and that on June 3, this year, Mensah travelled, leaving Victoria at home with the pregnant goat.
According to Chief Inspector Gyimah, the accused suddenly entered Mr Mensah's house with a sharp cutlass and threatened to kill the pregnant goat, which was lying in the house.
He said Victoria pleaded with Ofosu but he threatened her with the cutlass if she should get near him.
Chief Inspector Gyimah said Ofosu who was furious picked a stick, chased the goat from the house and killed it.
On his return, Victoria informed her husband of what had happened and he lodged a complaint with the Omankrado of Akenteng. When the Omankrado invited Ofosu, he failed to honour the call. The Omankrado made a report to the Police and he was arrested.
In his explanation to the court Ofosu claimed that he took that action because a goat had destroyed his crops in his backyard garden and that he suspected that the goat he killed was responsible for the destruction.