Government's Coordinated Programme Of Economic And Social Development Policies Ready—Akufo-Addo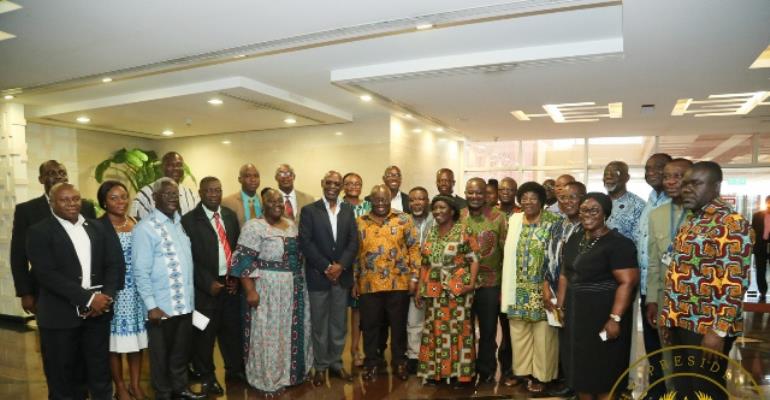 Accra, Sept. 26, CDA Consult – President Nana Addo Dankwa Akufo-Addo, has revealed that his government is done with the Co-ordinated Programme of Economic and Social Development Policies.
According to President Akufo-Addo, the Constitution, in Article 36(5), requires the President of the Republic to submit to Parliament within the first two years of his administration.
However, "this time, we have worked to ensure it is completed within the first year of my tenure of office. Cabinet has approved it for submission to Parliament. That will happen in the next session of Parliament that begins next week."
President Akufo-Addo made this known on Tuesday, when the Chairperson, Director General and members of the National Development Planning Commission presented the draft National Development Plan to him.
The President noted that the plan which has been submitted to him "presents my government and subsequent governments with a daunting task, not so much the implementation, but to stay on track and ensure we have the desired outcome. We must be able to monitor our progress, and redirect our paths when we seem to be deviating from them."
With Ghana having celebrated its 60thindependence anniversary in March this year, President Akufo-Addo noted that "in comparison to the likes of Korea, Singapore and Malaysia, countries which gained their independence around the same time as we did, it is evident that we should be further along in our national life than we currently are."
He continued, "We must, therefore, make rapid progress, and do things to ensure that we achieve it."
Without pre-empting the contents of the plan, President Akufo-Addo in stating some of his aspirations was hopeful of a Ghana with "a strong, buoyant economy that will provide decent jobs for all; and that our school leavers from secondary and university will not spend an inordinate amount of time, as they do now, to get a job or create one for themselves and for others."
He added further that he was hopeful of that being a Ghanaian "will be associated with tangible benefits, such as free basic education, a good healthcare system, the rule of law and security in the country; and that, reciprocally, the citizens will exude levels of discipline and professionalism that engender efficiency in the management of our institutions and the development of our society", amongst others
President Akufo-Addo was reassured that these aspirations meet substantially those of the National Development Plan submitted to him, plan you are submitting, adding "that we all agree that we must build a Ghana Beyond Aid."
One thing which is certain, according to the President, is that "we must not and cannot fail in taking up this journey. We need to seek out those who are not yet convinced and bring them on board; and we need to have people to champion the different aspects of the plan, in particular the key milestones. We must figure out how we sustain the interest of key constituents, especially the youth, who will be at the helm of affairs in the not too distant future."
President Akufo-Addo, on behalf of the people of Ghana, government, and on his own behalf, expressed his sincere gratitude to the Chairperson for the policy direction provided, and to the Director General, Dr. Nii Moi Thompson, for the organisational and technical leadership that got this document out.
"From the little I know of the operations of the Commission, I am aware that each and every one of you, the members of the Commission, have made significant input into this document. Your experience and knowledge have no doubt been brought to bear in the drafting of the document. I wish, again, to thank you all for the contribution you have made," he said.
President Akufo-Addo also expressed his "sincere appreciation for the collective decision you have made, without the compulsion of law, to submit your collective resignation to allow the principle of 'new King, new Law' to operate. It is a mark of high patriotism and I am grateful for it."