World, The Truth About Jesus Christ: He Is Neither A Way Or One Of The Ways To God!!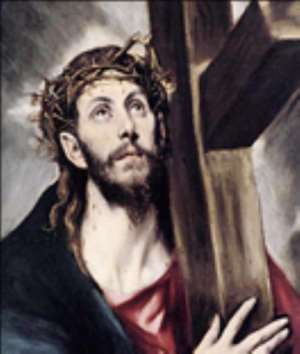 Why do we keep propagating JESUS CHRIST? Why did the martyrs of old under the torment-leadership of Nero and the likes ready to die for what they believe? Why did the great preachers of old stood the test of time, ready to be delivered to lions for lunch, pierced with the sword, fried in oil, crucified outside down and some dragged by horses on the floor and yet still one song lingers on their tongue:
" I HAVE DECIDED TO FOLLOW JESUS"? Why do we wish that every tribe, religion and people come to the saving knowledge of JESUS and repent for good?Why do people wake-up at dawn for dawn broadcasting and propagating JESUS when other creatures are snoring?
Aside the fact that He is God with the father in Heaven and no one will ever enter Heaven without accepting Him as testified by John Chapter Fourteen verses Six. The fact that no other god or man can forgive sin but Him, as testified by Mark Chapter Two verses Ten. He is the only one that heals and restores human dignity as testified by Matthew Eleven verses Twenty Eight. He raised the dead as testified by John Eleven verses Forty- four. Jesus Christ brought back many from the dead. He has so much Authority that when the soldiers came to arrest him for the crucifixion none touched him until He offered Himself- meaning He had Authority over men and creation. In summary He is God, descended in the form of man to understand our paroxysms and to save humanity from the upcoming Terror.
The truth is JESUS CHRIST is not one of these religious leaders we ceremonially celebrate. No religious leader ever said "I AM THE WAY THE TRUTH AND THE LIFE", but JESUS did. No religious leader said "I HAVE THE POWER TO FORGIVE SIN", but JESUS did. No one ever died and came back to life but JESUS did. And finally many people promised they are going and they will be back again: Okomfo Anokye went and never returned, Yaa Asantewaa went and never returned, Magicians went and was never heard off again and many others. But JESUS said I have the power to lay down my life and picked it up in three days and He did. His words was never wasted. He resurrected and lives forever and He is going to judge this world.
Man is a combination of body, soul and spirit. And you don't expect this tripartite to shut down when you die, no. That will be very untrue. The body goes to the ground, the spirit goes to God so certainly the soul should also go somewhere too. You may not believe but the truth is unfortunately our disbelief of the constitution can never ensure its discontinuity.
Act Chapter one verses eleven said that "THIS SAME JESUS THAT YOU SEE ASCENDS TO THE SKY WILL COME BACK THIS SAME WAY. FOR WHAT? TO RECEIVE THOSE THAT HAVE BELIEVED IN HIM AND TAKE THEM TO GLORY. Now the truth is, if you want to wait before you receive HIM as your Lord and personal savior, you might be disappointed, what if you DIE before he comes, what judgement willyou give?
HEAVEN is not a MIRAGE neither is HELL an abstract place.
Let me quote Apostle Peter "NEITHER IS THERE SALVATION IN ANY OTHER: FOR THERE IS NONE OTHER NAME UNDER HEAVEN GIVEN AMONG MEN (INCLUDING YOU), WHEREBY WE MUST BE SAVED".
Your country might permit freedom of religion but God only understands "WHOSOEVER SHALL BELIEVE IN "MY SON" SHALL BE SAVE.
JESUS IS "THE WAY". GET HIM AND BE ESTABLISHED.