Thousands Call Out The World Bank To Make The Big Shift Out Of Fossil Fuels And Into Renewables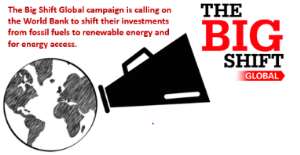 The Big Shift has united many thousands of people across the globe with a common aim – to get the World Bank to recognise that it can't keep on funding fossil fuels when the world is about to reach the 2020 tipping point where it will no longer be able to stop run-away global warming.
Ebenezer Essilfie-Nyame of Abibiman Foundation, who is leading the campaign in Ghana, explains, "It's such a contradiction - on the one hand, the World Bank acknowledges that climate change is disproportionately affecting the poorest people; on the other, it still funds fossil fuel infrastructure projects, locking countries into high carbon pathways. People's very lives are at stake. It's time for the World Bank to put its money where its mouth is and to demonstrate leadership on climate change".
"Ghana is on the verge of building a coal-fired power plant. Although it's not the World Bank that is directly financing the coal plant in Ghana, I believe it is paramount for the Bank to lead the way for other regional banks and corporations to rather invest in renewables", Mr. Essilfie-Nyame added.
The Big Shift global coalition demands that the World Bank follow a green growth pathway to meet the Paris Agreement goal of 1.5C, ambitious mitigation goals, as well as universal sustainable renewable energy access.
"This year we are hoping for a signal from the World Bank that it is committed to turning the tide of fossil fuels", says Anoop Poonia of CAN International "We are asking the World Bank to provide greater transparency on the impact of their direct and indirect investments in energy on the lives of children, women, men and the environment in client countries, and to demonstrate a significant increase in lifting people out of energy poverty compared to previous years."
The World Bank, with its experienced team and sophisticated policy finance tools, is in a good position to lead the world's urgent shift to renewables. Through its investment choices, the Bank can help ensure we create a future where everyone has access to affordable decentralised renewable energy.
Get involved – write to the World Bank here https://bigshiftglobal.org/ and Join the #BigShift Global Campaign to urge @WorldBank to go 100%RE by or before 2020 #WBfundRE http://bit.ly/2j2X3l1
For more information contact: Ebenezer Essilfie-Nyame, [email protected] ; Anoop Poonia, [email protected] , DhariniParthasarathy; [email protected] ; Mariana Paoli ( [email protected] )
Abibiman Foundation
www.abibimanfoundation.org