"Unity is the key" -Appiah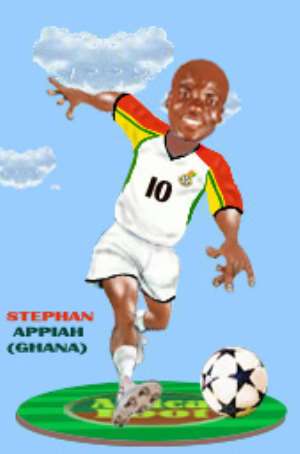 Ghana captain Stephen Appiah says teamwork is the key for his side Steven Appiah says Ghana's teamwork is the most important thing if the Black Stars are to reach their first ever World Cup finals.
Ghana beat South Africa 2-0 in Johannesburg on Saturday to take control of Group Two of the World Cup qualifiers.
The Black Stars need to beat Uganda and Cape Verde to qualify for Germany 2006 and Appiah says that unity is the key.
"The most important thing is unity - you can have 20,000 Maradona's or 10,000 Pele's but without unity they can't do anything," he told BBC Sport.
"We have unity and respect.
"The players have a friendship - when we are together, you can't tell if one is a professional or a local player.
"We do everything together."
The Juventus player was also full of praise for coach Ratomir Dujkovic.
"He respects each and every player and is a confident man," Appiah said.
"We like the way he trains and he also jokes with us.
"He treats all the players together. He doesn't take any nonsense; even if you were Zidane [and misbehaving], he would take you out of the team."
Despite being top of Group Two, thanks to their better head-to-head record over South Africa, Appiah knows that work still has to be done.
"For now, everybody is happy enjoying it but we know our destiny is in our hands and we must to continue to hold it in our hands," he added.
"There are no easy games these days and we must take it match by match and try and keep this spirit up."
Ghana's final two World Cup qualifiers are at home to Uganda on 4 September and then away to Cape Verde on 9 October.