Urb-Ride Sponsors GIJ-SRC Akwaaba Week Celebration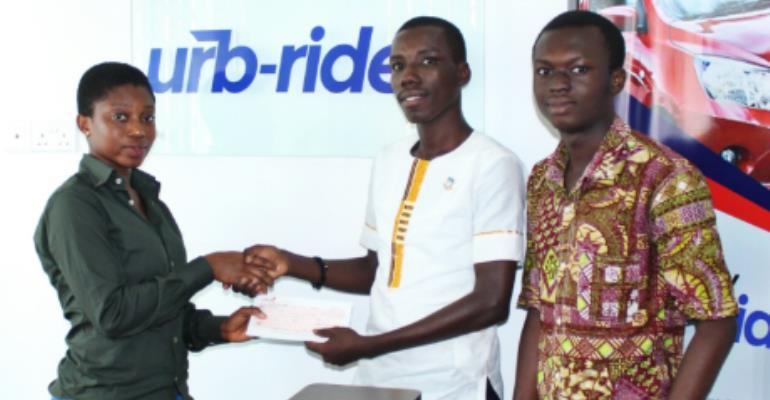 The Ghana Institute of Journalism (GIJ) has received sponsorship from Urb-Ride Company Ltd [A technology company providing smart transport and logistics sevices] ahead of this year's GIJ-SRC AKWAABA WEEK CELEBRATION.
Urb-Ride Company Ltd, as part of its contributions to create superior value for all and to provide decent job opportunities for the youth to make extra cash, has sponsored other tertiary institutions across the city.
Speaking to Urb-Ride's Communication/Media Department to announce the sponsorship, Ms Christine Maame Aba Buabin, applauded the SRC and described their ingenuity as worthy of support.
She said, "Urb-Ride is proud to be a part of this year's Akwaaba Week Celebration. We at Urb-Ride seek to ensure that students get a superior value for their money, and as a smart transport and logistics service company, we are here to provide students with just what they've yearned for. We are here to provide students affordable and convenient services from their homes and hostel to school and back, to their favorite events and wherever they seek to commute to."
Urb-Ride allows a rider to choose their preferred ride option at a rate, as low as GHS 3.00. The preferred ride options include Urb-Micro, Urb-Mini, Urb-Sedan and Urb-Prime. Other features include multiple modes of payment where riders can either pay their fare via mobile money or cash. Urb-Ride users get fare quotes from one destination to the other and more interestingly, a driver cannot start a trip without the rider's consent. Also riders can book rides for a later time or day. They can share their rider status with family and friends, book rides for loved ones, enjoy seamless real-time location system and an end to surge pricing during high demands or rush hours. In addition, Urb-Ride has a policy which ensures that, drivers, whether in-house or car owners that sign up with their service provide free Wi-Fi services for riders.
Ms Buabin added that, "It is our wish that many more students utilize this opportunity by signing up with Urb-Ride in order to ensure their value for money and needs prioritized. Students with cars can also sign up their vehicles with Urb-Ride to become "Student Drivers"in order to make extra cash as well as enjoy a lot of mouthwatering benefits too."