OWASS Old Boys construct ITC for school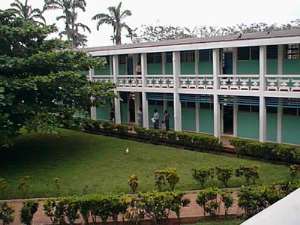 Kumasi, June 19, GNA- The United States of America (USA) branch of the Opoku Ware Secondary School (OWASS) Old Boys Association has presented a cheque for 20,000 US dollars to their alma mater. Dr Yaw Adubofour Tuffour, National President of the association, and a senior lecturer at the Civil Engineering Department of the Kwame Nkrumah University of Science and Technology (KNUST), presented the cheque to the school in Kumasi on Sunday.
He said the gesture was in support of the construction of an Information Technology Centre (ITC) being undertaking by the mother association for the school.
Dr Tuffour said to ensure the early completion of the project, the association had decided to levy every member one million cedis towards the project and call on all old students to pay the amount by the end of the year.
He advised students of the school to work hard to enable them to pass their examinations.
Dr Tuffour praised the National Association of Graduate Teaches for calling off their strike, and appealed to students to co-operate with the teachers to prepare them fully for their impending Senior Secondary School Certificate Examination.
Mr Stephen Anokye, Headmaster of the school, who received the cheque, thanked the old students for their contribution to the development of the school.
He was optimistic that the presentation will motivate other old students to also contribute their quota to ensure the early completion of the facility to enhance teaching and learning.
Mr Yaw Kusi Abebrese, National Vice-President of the association and project Co-ordinator, said 262 million cedis have been spent on the first phase of the project, which involved the construction of a basement.