14 September 2017
|
General News
Oil City Takoradi Goes Gay Over FREE SHS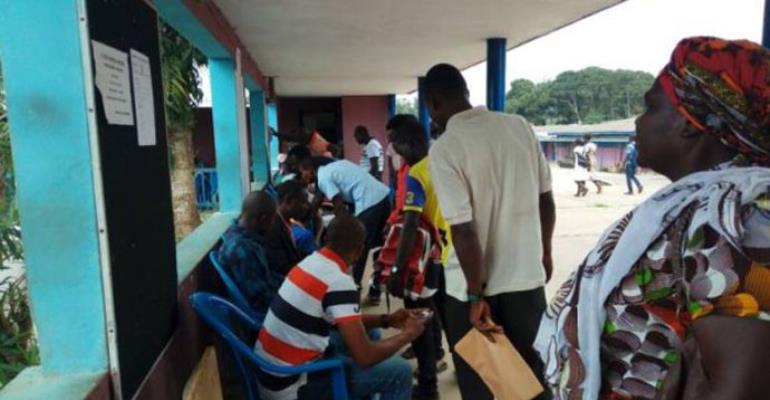 There was excitement at the Takoradi Market Circle yesterday when some elderly persons in the area dressed like students and marched through the principal streets of Takoradi with chop boxes on their heads to signify the commencement of the government's free Senior High School (SHS) policy.
The action of the ecstatic 'adult students' brought economic activities in the area to a halt, as most of the traders left their wares and shops to catch a glimpse of the neatly dressed adult students.
Some of the adult students later stormed the offices of DAILY GUIDE to propagate their message.
One of them, Kweku Darko praised President Nana Addo Dankwa Akufo-Addo for fulfilling his campaign promise.
He appealed to all Ghanaians to see the government's free Senior High School (SHS) scheme as a major national programme which must be sustained at all cost.
He, therefore, called on workers in educational institutions to work hard to ensure the success of the programme.
Mr Darko noted that the free SHS programme should not be politicized because Ghanaians had embraced it to enhance the country's human resources.
"It closes the chapter on education for the privileged few whose parents were well-to-do and opened the floodgates for prospective students whose parents are not rich and could not hitherto send them to school because of financial constraints," he emphasized.
A visit to some of the second cycle schools in Takoradi yesterday revealed that most parents were excited about the implementation of the Free SHS policy, which took effect on September 11, 2017 by the NPP government.
Parents, who spoke to DAILY GUIDE after going through the registration processes without paying a dime, explained that the new policy must be sustained to bring relief to everyone.
A parent told the paper that "I am a single parent and did not pay the boarding and admission fees and all that of mu children.
"I pray that the free SHS programme would continue, because it has brought relief to all parents, God bless the president," he added.
Another parent, who went through the admission process without making payment, also explained that "it has lessened my burden. I finished everything for my son in a few minutes.
Many parents thronged the various secondary schools in the Sekondi Takoradi on the first day of the implementation of the policy.
At the St. Mary's Senior High School, at Apowa in Ahanta West District, some parents formed queues as early as 5:00am.
A list of the over 700 first-year students, who had been posted to the school through the Computerized School Selection and Placement System, was pasted on the school's notice board.
Three hundred 300 students were admitted to the boarding houses.
The headmaster of the school, Rev Father George Aduah Ansah, disclosed that the school's authorities extended the official admission hours to 6:00pm daily "to ensure that we offer admission to all students."
From Emmanuel Opoku, Takoradi