14 September 2017
|
Regional News
Weija-Gbawe MP Marks My First Day At School With Pupils
Jude Ofei Reporter || Hard Point Newspaper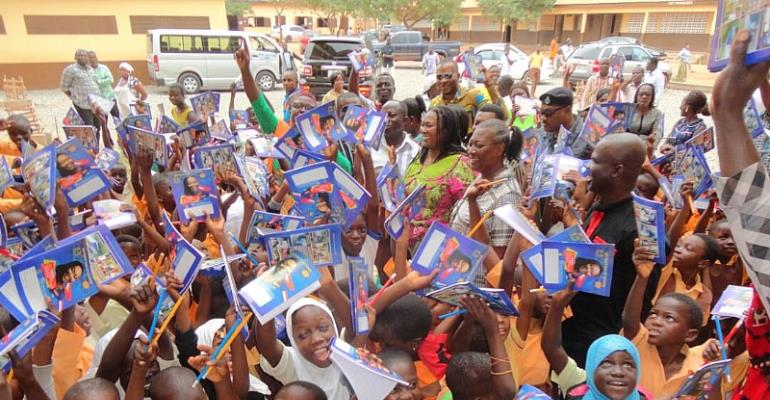 The illustrious Member of Parliament for Weija-Gbawe Constituency, who is also Deputy Minister for Health, Hon. Tina Naa Ayeley Mensah on Wednesday, September 13, 2017 joined the Ga South Municipal Education Directorate to mark my first day at School with over 800 pupils in her constituency.
As part of her commitment to see education thrive in her constituency, the state woman decided to support the Education Directorate in its attempt to make pupils who are attending kindergarten for the time and those transiting from KG 2 to Primary 1 see their first day at school as a special day.
The event which should have been marked yesterday Tuesday September 12 was postponed for today to make way for H.E Nana Addo Dankwa Akufo-Addo, President of the republic launch the Free Senior High School policy which begins this 2017/18 academic year.
Hon. Tina Naa Ayeley Mensah as part of the event distributed exercise books numbered 2000 and other stationery materials to pupils in 13 and 11 schools in Gbawe and Weija circuits respectively. According to her, this kind gesture is part of her bid to support education in her constituency.
"I love to see children given the best foundation in education" she remarked. She seized the occasion to advice the teacher handling the pupils who at age 4 and 6 to see them as being fragile hence require some special attention and care.
She added that, the children have been transited to a new learning environment which requires new learning approach which. This requires that the little ones will take time to adjust and for that matter teachers should be patient with them as they adapt to their new learning environment. "The learning environment of the child should be made friendly" she stated.
In a close up interview with her, she stated emphatically that parents should take the bull by the horn to do everything possible to ensure that their children get the best kind of education in the environment they find themselves.
She was quick to say that, all basic and school needs of the pupils should be the primary concern of parents. "When parents provide the basic school needs of their wards, they will have sound mind to learn to be academically sound" she stated.
Government alone cannot shoulder the burden of education in this country, so every stakeholder of the child must play his or her to complement each other to bring to reality the desired purpose of education.
She hasten to add that, government in its bid to ensure that quality education is achieved in this country is providing all needed materials and reforms to change the face of education, therefore parents and teachers must be up to the task ahead of them so that together quality education is provided to all children of school going age.
It is can be recalled that, June this year, the Honourable Members gave out 2500 mathematical sets and pens to final year students in the constituency as part of her bid to support education. This kind gesture of her received several applauds and commendation from constituents.
She thanked the Education Directorate, Particularly Mrs. Felicia Agyeibea Okai, and the entire Education Directorate for working hard to see education thrive under her watch.