13 September 2017
|
Business & Finance
Airtel Ghana Wins Capacity Africa Awards For Best CSR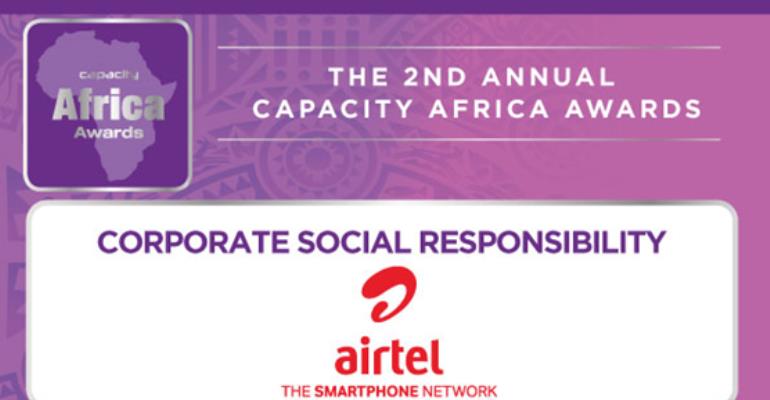 Airtel Ghana's transformational CSR programme has been adjudged 'Best Corporate Social Responsibility Initiative' at the 2017 African Carrier Awards which took place in Uganda's capital Kampala on 5th September 2017.
Airtel Ghana picked the Best Corporate Social Responsibility Initiative at the Capacity Africa Carrier Awards 2017 for the second consecutive year. The Capacity Africa Carrier Awards seeks to recognize telecom companies in Africa with outstanding performance in terms of growth, innovation, Corporate Social Responsibility amongst others.
The Award recognises Airtel Ghana's exceptional and far-reaching efforts to integrate sustainable corporate social responsibility initiatives which span education, health, and community development into its business operations. This award is a clear and unequivocal affirmation of the continuous effort of Airtel Ghana in driving sustainable innovative initiatives that distinguishes itself with its approach and contribution to sustainable development.
Airtel Ghana received this award due to its excellent and far-reaching efforts to integrate sustainable corporate social responsibility initiatives across every sphere of what they do, especially through our school adoption and Evolve with Stem initiatives and other employee driven CSR initiatives in which employees engage in.
Commenting on the recognition, Hannah Agbozo, Director of Legal and Corporate Affairs at Airtel Ghana said "At Airtel, we are passionate about empowering local communities through our CSR and community investment programmes. To be recognised for this at the continental level as the best in class in CSR is a great honor and a motivator for us to continue investing to improve lives and drive positive impact in our communities. This award is a result of the ownership and commitment of our employees to embrace and volunteer in our CSR initiatives. We dedicate it to all our employees and our cherished customers
Airtel Ghana has won multiple awards for its leadership in driving sustainable corporate social responsibility initiatives including "Best CSR Initiative" at the Africa Carrier Awards 2016, IPR Best community relations programme for three consecutive years, Bharti Change maker award (gold) for two consecutive years and best CSR Company in Education at the 2015 Ghana CSR Excellence Awards.
Airtel is Ghana's fastest growing telecommunications network providing unparalleled communication, connectivity and collaborative solutions to its customers.
About Bharti Airtel
Bharti Airtel Limited is a leading global telecommunications company with operations in 17 countries across Asia and Africa. Headquartered in New Delhi, India, the company ranks amongst the top 3 mobile service providers globally in terms of subscribers.
In India, the company's product offerings include 2G, 3G and 4G wireless services, mobile commerce, fixed line services, high speed home broadband, DTH, enterprise services including national & international long distance services to carriers. In the rest of the geographies, it offers 2G, 3G and 4G wireless services and mobile commerce. Bharti Airtel had over 372 million customers across its operations at the end of March 2017. To know more please visit, www.airtel.com
About Airtel in Africa
Airtel is driven by the vision of providing affordable and innovative mobile services to all. Airtel has 17 operations in Africa: Burkina Faso, Chad, Democratic Republic of the Congo, and Republic of the Congo, Gabon, Ghana, Kenya, Malawi, Madagascar, Niger, Nigeria, Rwanda, Seychelles, Sierra Leone, Tanzania, Uganda and Zambia. Airtel International is a Bharti Airtel company. For more information, please visit www.airtel.com , or 'like' the Airtel Ghana Facebook page via www.facebook.com/airtelgh or follow us on Twitter via the handle @airtelghana.