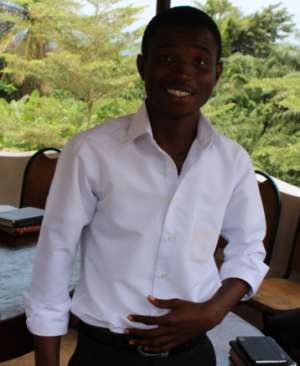 The writer
The basic school as it is, functions almost as a substitute to the role of the home. A child between the ages four and fifteen spends at least one-third of the day in school. This period is also the most active of the child's life. They come home either meeting the absence of their parents due to work demands or come and find them busy. Therefore, most parents in Ghana now only have the weekends- which religious and social activities might take one of the two days- or public holidays to have full day experience with their children. So to some extent, parents and guardians are entrusting their wards to teachers not only the responsibility of academics but to ensure a holistic development of the child. The school is no more just a place for academics but has to position itself to act as the child's second home.
The modern day basic school should be seen as a quasi-home institution which has now gone beyond just teaching reading and writing examination. The role of the school has changed drastically due to changing trends in society. The school must be made to embrace this role if society wants a better future otherwise it will be churning out only 'examination writers'. If the home is breaking, the school must step in to take up from the home in terms of seeing to the development of the child.
Schools should be seen as a 'complete' institution with the preparation of young ones to fit appropriately into society as its main target. Schools should not be a mere assessment tunnel where a pupil must passively pass through to get a certificate at the end. Beyond the examination and certification, the basic school should pay attention to character development, emotional and psychological adjustment, aptitudes and skills development of the child. The teacher should not limit his or her duty to only issuing out instructions in the classroom. The performance of a school should not be limited to pupils' grades in the Basic Education Certificate Examination (B.E.C.E.). An excelling school must be assessed using some parameters; parameters that when fully taken into consideration, will bring the best out of pupils and make them better, responsible and active members of the society and also help teachers move away from being just classroom instructors.
On yearly basis, schools in each district must be ranked using certain relevant markers. Definitely, the B.E.C.E. results must be considered but it should not take the lion's share of the assessment scheme otherwise the norm will continue with uncontrollable emphasis on rote learning. Some of the indicators to be considered must include the presence of a functional Guidance and Counselling coordinator with his or her well-furnished office in the school. This coordinator should not just be any person 'selected to represent something'. This is what is going on in most basic schools in Ghana.
There is either no recognition–with respect to pupils not knowing - guidance and counselling coordinator or someone who will just represent the school when there is a meeting for guidance and counselling coordinators. The district coordinators must be up and doing and put the school coordinators on their toes. The head teacher must make known to pupils who the guidance and counselling coordinator is. Records must be kept on the activities of the coordinator and must be supervised. The emotional and psychological needs of each student should be of concern to teachers. Someone must be there to listen and guide pupils. The overloaded nature of the timetable does not also help make the coordinators have time to do their work.
Schools must also position themselves on the kind of exposure they give pupils. Throughout the year, some schools will not make the effort to introduce pupils to the world outside them. Pupils are made to live only in their textbooks. The district directorate must ensure that schools organize excursions and other 'exposing' programs for pupils at least on yearly basis. Pupils must be introduced to key places and events that are relevant to not only what they study in school but to get them exposed. Records must also be kept. Visits should not be limited to tourist sceneries. Effort can be made to expose pupils to senior high schools, universities and other higher institutions of learning as means of introducing pupils especially those in the rural areas to educational opportunities lying outside their home environment.
Importance should also be placed on the seriousness schools attach to the organisation of co-curricula activities. The classroom work has taken over the school so little room is given to co- curricula activities. Those who give room for that only allow pupils to engage in ball games. Opportunities are not given to pupils with interest in non-ball activities. The co-curricula activities are mostly not structured and planned; it is even time for some teachers to have free time.
It could be used to tap and nurture the non-academic talents of pupils. Apart from the ball games, there could be drama, painting and drawing competitions, cooking competitions, etc. Officers from the district directorate should spread their supervision tentacles to cover organisation of co-curricula activities. Some schools have been consistently performing poorly in inter-school sports competitions because most teachers tend to be adamant when it comes to activities outside the classroom. Therefore just as headteachers are questioned when the school performs poorly in the B.E.C.E., they must same be questioned when their school put up poor performance in sporting competitions. Some schools do not even make provision for playing field and kits.
Schools must try to get learning centres such as technical and vocational workshops to aid the teaching of the practical subjects like Basic Design and Technology. There should also be school farms. This will help promote and develop pupils' ability to use their hands for something productive. It is terrible that a basic school graduate cannot handle the hammer and other carpentry tools or even mend a shoe. With the over emphasis on ranking after the writing of the B.E.C.E., most of the heads of the basic schools have neglected the psycho-motor and affective developmental domains of pupils. Gone are the days when schools have farms which helped to introduced pupils to crop farming. It helped pupils to have practical experience with what they learn.
The basic school should play its role effectively to help the home institution socialize the students into the society properly. It should not just be an institution where pupils learn facts and definitions and reproduce them in an examination but cannot 'live' what they learn when out of school.
Okota-Wilson Nicholas