12 September 2017
|
Religion
The Ways Of Christ With Prophet Bernard Afresa Taylor: 'The Mind Of Christ'—Part 2
Prophet Bernard Afresa Taylor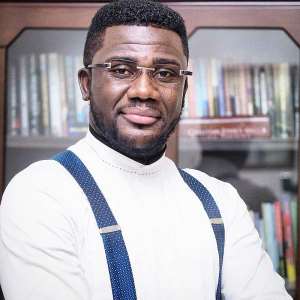 So What Are The Characteristics Of The Mind Of Christ?
THE MIND OF CHRIST WAS THE MIND OF LOVE, FELLOWSHIP AND UNITY.
Beloved, love is a force that is stronger than the force of hatred.
Love is a force that knows no loss.
Love is as strong as death.
1 John 3:13-14
Love passes from death to life.
Every time you grow in love, you grow in the force of power and strength.
No devil confronted and defeated Jesus because the love was personified.
The mind of love is the mind that wishes everybody well.
The mind of love is the mind that seeks to add value to everyone who comes in contact with your life.
The mind of love is the mind that seeks to make a difference in the life of people.
Beloved, every trace of hatred is a reducer of spiritual strength.
Compassion compels the unction for advancement in life.
Please for you to prosper:
Runaway from hatred
Runaway from bitterness and sedition
Runaway from division
Runaway from antagonistic cantankerous existence.
Because it will destroy your life and end you in hell.
Philippians 2: 1(livingBible)
2. THE MIND OF CHRIST IS HUMILITY AND LOWLINESS
Jesus was God, but He did not cling to His right as God.
He did not consider His divinity something to grasp.
He humbled Himself.
Humility and lowliness is a life devoid of pride.
A life devoid of arrogance, vain glory and ostentation.
A life that does not struggle to make impression on others.
WHAT IS PRIDE?
It is an exaggerated estimation of oneself.
Pride is toxic superiority complex.
Pride is the worship of SELF.
Where SELF is the center of life.
Pride is the elevation of one self and demotion of others.
It is a life that makes self the full cost of everything.
That was not how Jesus was;so if we are going to see the result of Christ then we must possess the mind of Christ.
That mind is the mind of humility.
Nobody should be able to tell that you are the one, until they ask people.
We are not meant to struggle for identity.
If you want to prove a point, you have no point.
Those who do things to count, don't stop to count.
Beloved, calm down, drop shoulders.
There are people who live like peacocks today and will end up like vultures tomorrow.
PLEASE CALM DOWN
JESUS had the mind of humility, simplicity and sincerity.
A mind that celebrates others.
That mind does not take offense when not recognized.
3. THE MIND OF CHRIST IS THE MIND OF SERVICE AND SERVANTHOOD.
Jesus took the form of a servant.
He was addicted to service.
He was ready to serve man - Man was below his class and standard.
A mind on standby to run errands for God, man and humanity.
It does not matter where we reach in ministry, we don't outgrow the status of service.
A title is not equal to mantle.
It is service that gives people mantle.
It was service that gave Elisha the mantle of Elijah.
It was service that gave Joshua the mantle of Moses.
So that means you can have a title without a mantle.
A title without a mantle is equal to battle.
Because you have to struggle to defend the title.
We shall be rewarded not by our title, but by our service.
Never outgrow the realm of service.
It is simplicity that makes up servants.
4. THE MIND OF CHIST IS THE MIND OF SOLUTION, PROVISION AND SACRIFICE.
He came to offer solution (Philippians 2:5-7)
There are three groups of people in this world:
a. Those who watch things happen.
b. Those who wonder what is happening.
c. Those who make things happen.
Another category :
a. Those who create problem.
b. Those who are the problem.
c. Those who solve the problem.
In ministry, you are not out there because of what you can get.
You are here to offer solution and provision.
be a problem solver
Look out for a need in the church and solve it.
5. THE MIND OF CHRIST IS A MIND OF OBEDIENCE UNTO DEATH.
Obedience without questioning.
Unconditional obedience.
The kind of obedience that gave the father pleasure at all tims.
The mind of total submission to the father.
A will that is dissolved in the will of the father.
My assignment is to please the heart of the father.
A heart that seeks only to do what the father instruct.
Not a mind of his own.
Not my will father, but yours be done.
"Kathryn Kuhlman said "There can't be two wills in one person".
How Do We Acquire And Operate The Mind Of God?
1. BY WALKING IN THE REALITY OF REDEMPTION.
1 Corinthians 2:16
Being saved qualifies us to walk in the mind of Christ.
And by faith we can walk in that reality.
2. BY FELLOWSHIPPING WITH THE MASTERS.
By spending time in his presence.
Acts 4:13
By spending quality time with the master.
Association brings assimilation.
You absorb the character and mentality of nobody you spend time with.
CONTACT PROCEDURES IMPACT
Proverbs 13:20
2 Corinthians 3:18
What you look at determines what you look like.
In our generation, there is so much carnality and bankruptcy of spirituality.
This is because what we have in this age is flesh encountering flesh.
There is a bankruptcy of intimacy with God.
A shortage of devotion.
3. BY LEARNING OF THE MASTER.
Continue to study his lifestyle
Matthew 11:26
4.THROUGH THE AGENCY OF THE HOLY SPIRIT.
2 Timothy 1:16