11 September 2017
|
NDC News
NDC Divided Over Mahama Unity Walk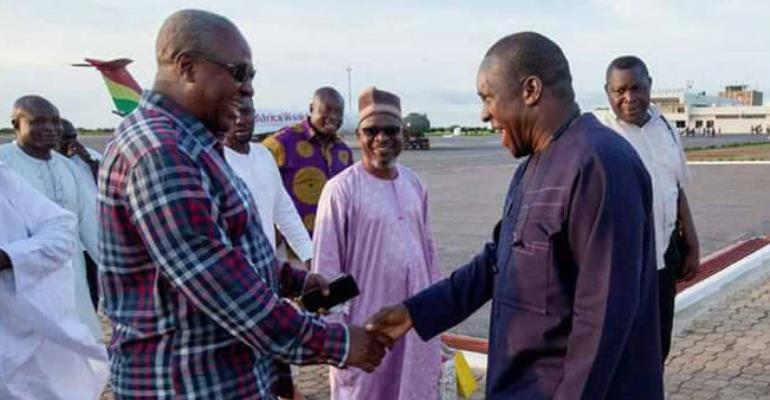 A splinter group in the National Democratic Congress (NDC), Action Movement for NDC, has accused ex-President Mahama of using crooked means to become the party's flagbearer in 2020.
The group has stated that the NDC's 'Unity Walk,' which took place in Tamale, the Northern Regional capital on Saturday, was one of the dubious tactics, adopted by Mr Mahama to retain his position as NDC flagbearer.
According to the irate members of the group, former President Mahama is bent on becoming the NDC flagbearer at all cost, noting that his "weird action" is a recipe for confusion and chaos in the party.
The Action Movement for NDC has therefore, sternly warned Mr Mahama to take time and respect the party's rules so that his hankering to become the NDC flagbearer would not create deep cracks in the party.
A top member of the group, Kodzo Hamenyo Keglo, without mincing words, stated that Mr. Mahama had started his campaign for the position towards the 2020 election, although the party has not sanctioned any campaign yet.
According to Mr Hamenyo Keglo, the Prof. Kwesi Botchwey Committee suggested a 'healing tour' for the NDC to repair all the cracks and wounds in the party, ahead of the 2020 elections.
He said, "Mr. Mahama, who wants to become NDC flag bearer at all cost, has started his own 'unity walk,' which is his own initiative to become the NDC flagbearer again".
Hamenyo indicated that ex-President Mahama had started his personal campaign to become the flagbearer of the NDC in 2020 "and he should be bold to state it, instead of hiding behind the 'unity walk' to campaign."
According to him, the NDC held a series of walks ahead of the 2016 national elections, yet the party lost miserably to the NPP "so what we need now is a healing tour as suggested by Prof. Botchwey's committee and not walks."
In a chat with King Edward of Hello Fm, Mr Hamenyo Keglo stated categorically that Mahama's current posture and actions are not helping the NDC and it's about time that the party boldly told him in the face.
Sounding extremely angry, he asked, "What strategy is the NDC following now? Are we following the Prof. Botchwey's 'healing tour' strategy or we are following the Mahama 'unity walk' strategy?"
Hamenyo noted that Mr. Mahama has money in abundance and he (Mahama) wants to capitalize on that by hiding behind 'unity walks' to champion his ambition to become the NDC standard bearer.
From I.F. Joe Awuah Jnr., Kumasi