Woman demands justice from Madina Police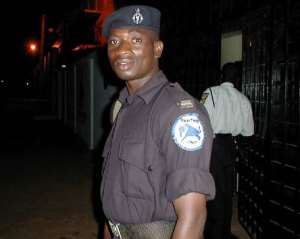 Accra, June 14, GNA - A petty trader, has petitioned the Inspector General of Police to investigate a case in which she was allegedly assaulted by two policemen of the Madina Police Station when they went to arrest her.
Mrs Gifty Yeboah in her petition copied to the GNA, said on May 19, this year at about 1400 hours, two armed policemen accompanied by her sister in-law came to her shop at Ashaley Botwe near Accra to arrest her for allegedly assaulting her sister in-law. Mrs Yeboah said she pleaded with the police to give her time to enable her lock up her shop and to report at the police station later in the day, but they refused.
Notwithstanding her plea, Mrs Yeboah said her sister in-law instructed the policemen to beat her up for proving stubborn. Mrs. Yeboah said, "One of the policemen pulled out a pair of handcuffs and started manhandling me in an attempt to cuff my wrists while the other policeman who held an AK 47 used the gun to butt me several times on my entire body," she said.
"The policemen finally pushed me to the ground, sat on me and started beating me, while my little son and daughter came close to sympathise with me, but the police pushed them away."
Mrs Yeboah said she was finally put in handcuffs and was sent to the police station where she was detained and later granted bail. She said when she first filed her complaint against the two policemen, a police man at the charge office ignored her, until her husband reported the assault against me to the District Commander, who called the investigator to take her complaint.
She said since the incident took place, the Madina police have failed to investigate the case to bring out the truth. A medical report attached to the petition signed by a Senior Medical Officer at the University Hospital confirmed the chest and general body pains, especially at the right arm and contusion of the right thumb. ASP Kwesi Ofori, Public Relations Officer at the Police Headquarters in a telephone interview confirmed that the office has received a copy of the petition from Mrs Yeboah.
The District Commander of the Madina Police, when contacted said he was neither going to deny nor confirm the issue. 15 June 05