UE/R launches campaign against illegal weapons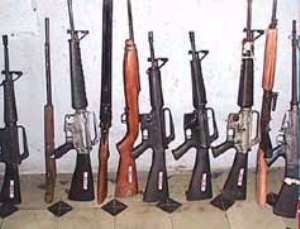 Bolgatanga, June 15, GNA - The Deputy Upper East Regional Minister Mr Ahmed Awudu Yirimeah, on Tuesday said that the cycle of illegal acquisition and use of firearms in the country could be broken only through respect for the rule of law and respect for the rights of others.
He said in every civilised society, the citizenry depend on the national security apparatus for protection.
That was why the Kufuor administration since its assumption of office, had infused a massive dose of resources into the security services to inspire the confidence of the people, he added. Mr Yirimeah was speaking at the regional launch of the campaign against small arms and light weapons in Bolgatanga. He said information indicated that some blacksmiths in the Region engaged in the manufacture and sale of small arms and tasked security agencies to identify and bring to book both the manufacturers and those who patronised such illegal weapons.
Mr Yirimeah noted: "When one man procures a weapon, another person is encouraged to also get one in order to feel safe." He added that conflict situations and the attendant humanitarian needs divert resources that would have been used for development projects into peace-keeping activities and urged every citizen to make it a duty to ensure that smalls arms were retrieved from their communities.
Naba Awuni Johnson, Chief of Vorogo near Bolgatanga said the proliferation of small arms and weapons in society brought untold misery to women and children while vital infrastructure was destroyed in the wake of armed conflicts.
He recalled the tragic events in Burundi, Liberia, Sierra Leone and Cote d'Ivoire and asked, "Do we in Ghana wish to have a practical experience of what has taken place in these countries before we believe that fire can burn, that small arms can generate war, and that we will cease to exist as a nation."
Naba Johnson called for vigilance and patriotism on the part of security agencies and officials at the nation's borders and ports.
Captain (rtd) Nkrabea Effah Dartey, Deputy Minister of the Interior who chaired the function, likened the danger posed by the illegal possession of weapons to a rising epidemic. He said the recent establishment of the National Commission on small arms was part of government's efforts to combat the epidemic.
Captain Effah-Dartey who is also Chairman of the Commission on Small Arms, indicated that although Ghana was one of the most peaceful countries in Africa now, the turmoil that had destabilised some countries in the sub-region could occur in Ghana if its citizenry did not take the campaign to rid the society of illegal weapons seriously. He announced that an estimate 100,000 guns were believed to be in wrong hands in Ghana and further disclosed that government had so far spent two billion cedis on peace-keeping duties in Yendi and Tamale. Captain Effah-Dartey urged religious leaders to use their pulpits to appeal to the people to refrain from keeping illegally acquired weapons in their homes.
He also called on journalists to refrain from engaging in the kind of reportage that incites conflicts.
The Regional launching, which aimed at raising public awareness about the dangers posed by illicit weapons, was funded by the UNDP and facilitated by Yankah and Associates.