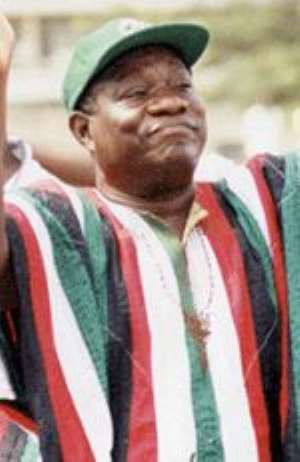 Professor John Evans Atta-Mills, former Vice President and two-time presidential candidate of the National Democratic Congress (NDC) has been urged to declare his intention for his party's 2008 presidential candidacy, following media reports that some members of the party in Tema and Kumasi would not want him to stand again, having failed them twice in the last two general elections of 2000 and 2004.
In an interview on Monday, Mr. Sampson Ato Ampah, acting Chairman of the NDC in the Dome-Kwabenya Constituency, argued that Prof. Mills currently is the most competent, marketed, and arguably the best candidate to compete with any emerging candidate from the New Patriotic Party (NPP) to win the 2008 elections.
Mr. Ampah explains that the ruling NPP government's corrupt practices and their mismanagement of the economy had offered the NDC party the greatest opportunity than ever to win the 2008 election.
"However the party would require the services of an experienced, competent and a marketed candidate of the caliber of the former Vice President, Professor J.E.A Mills, to spearhead the NDC electioneering campaign in 2008, for resounding victory," Mr. Ampah says.
He disclosed that as the former Regional Co-ordinator of the Friends of Atta Mills Fan Club in the Central Region, he was aware of the difficulties, which confronted Prof. Mills' candidature and the NDC party, which caused their defeat in the two previous elections.
Mr. Ampah further explains that Prof. Mills' experience, competence, loyalty and commitment to the NDC party and nation as a whole, were manifested during his stewardship as the Vice President during the NDC era.
"However, the infamous 'Swedru Declaration,' as the party's presidential candidate in the 2000 elections by former President Rawlings, brought a lot of division in the party which was capitalized on by the then opposition, amid other factors, to win the elections," Mr. Ampah says.
He slammed those who are blaming the former vice president for the party's failure to win the past election.
He explains that after a critical analysis and evaluation of the 2000 elections results, the party arrived at a conclusion that the people of Ghana were fed up with the governance of the state by the NDC, which together with the Provisional National Defense Council (PNDC) had ruled the country for over a decade.
According to the acting Constituency chairman, other factors which caused the defeat of the NDC in the 2000 elections included the vile propaganda of the then opposition NPP Members of Parliament (MPs), supported by a section of the media branding the NDC as corrupt and evil government.