Kufuor to meet Bush In DC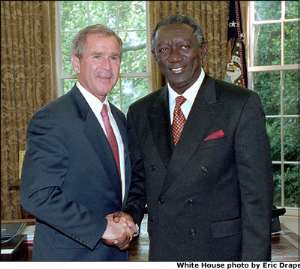 Bush follows up debt relief by meeting with leaders of African democracies WASHINGTON - Now that Africa is getting an influx of cash to pay off debts, President Bush is pushing for an influx of democracy on the troubled continent.
The United States and others of the Group of Eight major industrialized nations agreed Saturday to eliminate more than $40 billion of debt owed by 18 of the world's poorest nations as part of a British-led effort to lift Africa out of poverty.
Bush was to follow up on the agreement by playing host Monday to leaders of five countries that held democratic elections last year.
``At a time when freedom is on the march around the world, it is vital that the continent of Africa be a place of democracy and prosperity and hope, where people grow up healthy and have the opportunity to realize their dreams,'' Bush said in a message to African people broadcast recently on Voice of America radio.
After meeting privately in the Oval Office, Bush and the presidents of Botswana, Ghana, Mozambique, Namibia and Niger planned to appear before the cameras to discuss U.S.-African trade.
Bush touted increased trade in his radio message. A new agreement that he signed offers duty-free treatment on some goods and other trade benefits to 37 of the 48 nations in sub-Saharan Africa.
It requires participating countries to show they are making progress toward a market-based economy, the rule of law, free trade, the protection of workers' rights and policies that will reduce poverty.
``For too many years, our assistance to Africa was sent without regard to results,'' Bush said in the broadcast. ``Under my administration, U.S. development aid to African nations has increased. But we are not just giving more aid - we are being wiser about how it is spent.''
The United States is the largest single provider of economic aid to Africa, but critics contend it is not doing enough because it has given a lower percentage of its gross domestic product in aid than other major industrialized countries.
Ghana, Mozambique and Niger are three of the nations that will benefit from the debt relief package agreed to over the weekend in London. The proposal was put forward by Britain and the United States following talks in Washington last week between Bush and British Prime Minister Tony Blair.
It was made possible by a significant concession by the White House when it agreed that the debt write-off would not jeopardize future aid funding. Previously, it had insisted that debt relief come out of existing aid packages.
Last week, White House spokesman Scott McClellan said the African presidents' visit ``will highlight the value that the United States places on supporting democracy across Africa.'' He said Bush would recognize the countries' success at holding free and fair elections last year and discuss economic development, HIV/AIDS and peace in Africa.
The elections last year saw each of the five nations either re-elect their leaders or keep the ruling party in power.
Botswana President Festus Mogae won a new term in October elections that saw his party keep its 38-year lock on power in one of Africa's most stable, and most prosperous, democracies.
Ghana's President John Kufuor, whose election victory in 2000 marked the country's first-ever democratic transfer of power, won re-election in December. The country prides itself on leading the way for a new generation of maturing African democracies.
Armando Guebuza won in December as Mozambique's ruling party candidate, but the voting was marred by such voter apathy it raised questions about the health of the emerging democracy in one of the world's poorest countries.
November elections in Namibia saw the ruling party retain the presidency with the landslide election of Hifikepunye Pohamba.
President Mamadou Tandja of Niger, the country's first elected president to complete his term without assassination or coup, won re-election in December.
On the Net: