26 August 2017
|
Press Statement
Statement: Vice President Bawumia At NPP Delegates Conference In Cape Coast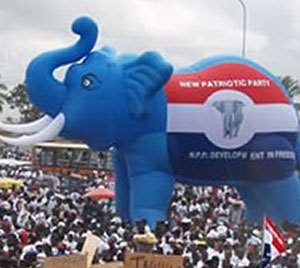 Kukrudu!
Kukrudu!!
Kukrudu!!!
The Acting National Chairman of the New Patriotic Party, Hon. Freddie Blay,
Your Excellency President Nana AddoDankwaAkufo-Addo
Your Excellency, President John AgyekumKufuor,
Members of the National Council of the NPP,
Honourable Former Ministers of State
Honourable Members of Parliament,
Distinguished Elders of our Party,
Chiefs and Traditional Leaders,
Members of the Diplomatic Corps,
National, Regional, Constituency, and Polling Station Executives,
Rank and file of the great Kukrudu Family,
Representatives of other political parties,
Members of the Media,
AssalamuAlaikum!
What a difference a year makes! We thank the Almighty God for delivering this country to us and for delivering our economy from the throes of economic mismanagement.
President Nana AddoDankwaAkufo-Addoand the NPP promised the nation that our government will transform the economy by ensuring that we replace incompetence with competence in the management of the economy. I must say without any fear of contradiction that President Nana AddoDankwaAkufo-Addo has indeed replaced incompetence with competence in the management of our economy. When I look at colleagues seated around the table at Cabinet meetings – It is just humbling to see the galaxy of competent men and women that the President has assembled.
Furthermore, when I look at the Economic Management Team – It is just as fantastic: Prof. GyanBaffuor, Dr.AkotoOsei, Dr.AfriyieAkoto, Hon. Alan Kyeremanteng, BoakyeAgyarko, Ken Ofori Atta, Senior Minister Hon. Yaw OsafoMaafo. What a solid team for Ghana!
Fellow kukrudites, we were elected to fix the problems and I'm glad to report that we are fixing the problems while putting in place the policies that will drive the economic transformation of this country.
Our masterful Asempa budget delivered by our masterful Minister of Finance, Ken Ofori Atta has set the tone this year:
We promised to reduce taxes and move economic management from a focus on taxation to a focus on production and we have delivered. We:

Abolished excise duty on petroleum
Abolished levies imposed on 'kayayei' by local authorities
Abolished the 1% Special Import Levy
Abolished the 17.5% VAT/NHIL on domestic airline tickets
Abolished the 17.5% VAT/NHIL on financial services
Abolished the 17.5% VAT/NHIL on selected imported medicines, that are not produced locally
Abolished the 5% VAT/NHIL on Real Estate sales
Initiated the process to abolish duty on the importation of spare parts
Reduced National Electrification Scheme Levy from 5% to 3%
Reduced Public Lighting Levy from 5% to 2%
Reduced special petroleum tax rate from 17.5% to 15%
Replaced the 17.5 VAT/NHIL rate with a flat rate of 3 % for traders
Granted Capital Gains Tax Exemption on stocks traded on the Ghana Stock Exchange or publicly held securities approved by the SEC

In the 8 years of NDC economic management how many taxes did they reduce?

We promised to restore macroeconomic stability and we have done that in just 7 months:

Inflation has been reduced from 15.4% in December 2016 to 11.9% in July 2017
Interest rates on the 91 day treasury bill have declined from 16.8% in December 2016 to 12.5% in July 2017
Cedi Exchange rate is relatively stable with a year to date depreciation of 3.7% against the US dollar
Fiscal consolidation has been restored with the fiscal deficit on course to be reduced from 9.3% of GDP in 2016 to 6.3% of GDP at end 2017. The cash fiscal deficit was GH¢5.6 billion (2.7 percent of GDP) in June 2017 compared to GH¢6.7 billion (4.0 percent of GDP) recorded in the same period in 2016.
The era of reckless borrowing (which saw Ghana's debt stock increase from GH¢9.5 billion in 2008 to GH¢122 billion in 2016 and the debt to GDP ratio from 32% to 73.1%) is over. Contrary to the annual average rate of debt accumulation of 36.7 percent per annum over the last eight years, the rate of accumulation over the last six months is only about 13.3 percent. For the first time since 2008, Ghana's debt burden, which is measured by the debt/GDP ratio will be reduced from 73.1% in 2016 to a projected 71% this year. Although this is still high, there is a significant change in direction.

Our re-profiling programme of domestic debt, which involved extension of tenor and issuance of longer dated bonds, has been largely successful. This has led to an extension of tenor with the Issuance of the first 15-year bond and is currently the longest dated Domestic Bond. As at last year, the longest dated domestic bond was 10 years. In addition, a second 7- year bond was issued in April 2017. The yield curve at the primary issuance of domestic bonds has also improved significantly compared to the trend in recent years. Following the reprofiling exercise, the savings from interest cost is estimated at GH¢612 million.
The government is current on its 2017 obligations to all statutory funds:

NHIS – we are current on our payments
GETFUND – we are current on our payments
DACF- we are current on our payments
SSNIT Contributions- we are current on our payments

Economic growth at the end of 2016 was 3.5%. The lowest in 15 years. In 2017, as a result of restored confidence and sound economic policies economic growth is expected to rise to 6.3% underpinned by improvements in industry, agriculture and oil.

Provisional estimates show that the trade account recorded a surplus of US$1,429 million for the first half of 2017 due to a significant increase in export earnings combined with lower imports. This compares to an almost equivalent deficit of US$1,403.7 million over the same period in 2016.

In May 2017, Credit rating agency Fitch revised Ghana's outlook on credit ratings from negative to stable. According to Fitch, it reviewed Ghana's outlook because the country is making progress in stabilizing the economy after recent crises period with the expected revival in GDP growth and declining inflation.

We have launched the Planting for Food and Jobs programme and reduced fertilizer prices by 50% by reducing the price of fertilizer from GH¢85 to GH¢57. This has brought relief to farmers across the country.
We have launched a major offensive against galamsey in Ghana to protect our water bodies and our environment:

Suspended the issuance of small-scale mining licenses to restructure the sector
Developed a 5-Year Multilateral Mining Integrated Project to improve the management of small scale mining to protect the environment and allow Ghanaians to mine in a regulated and sustainable manner
Small scale mining banned in or near water bodies

We have completed the process of the procurement of a Digital Property Addressing System for Ghana. Implementation will begin in September. This is historic and transformational. Once implemented every piece of land or area in our territorial waters will be uniquely identified.

The process of issuing National Identification cards has begun and we should see the start of card issuance in the fourth quarter of this year. This again, will be historic.

Our industrialization plan which is based on adding value to our raw materials is on course. Yesterday President Nana AddoDankwaAkufo-Addo launched the One District One Factory Project at Ekumfi.

A quick disbursing Stimulus Fund has been created to support distressed but viable companies. To date, over 350 applications have been received, out of which 80 have been selected for support in the first phase of the programme. The second phase of the exercise is ready to commence.

We have launched the National Entrepreneurship & Innovation Plan (NEIP) to support start-up and early-stage businesses with a seed-capital financing of the Ghana Cedi equivalent of US$10million.

We have completed and submitted to Parliament, draft bills for the establishment of the three Development Authorities as well as the Zongo Development Fund

Against all the doubters and naysers, our competent management of the economy has enabled us to place our economy in a position to implement the following policies:

Free SHS: Free SHS to start for first year students in September 2017 (in a few weeks). Didn't some people say it was not possible?
We have paid an increased National Service Allowance effective April from Ghs 350 to Ghs 559.
Teacher training allowances have been restored and payment will begin next month. Didn't some people say it was not possible?
Nursing training allowance have been restored and payment will begin next month. Didn't some people say it was not possible?
Made budgetary allocation to expand LEAP to cover more beneficiaries, from 213,000 to 350,000 households who had been captured but not catered for
Increased the portion of District Assembly Common Fund (DACF) allocated to persons with disability from 2% to 3%. Was the NDC able to do this?
In line with our promise, we have increased the proportion of DACF that goes directly to assemblies from 33% to 50% as a result of fewer deductions from the center

Energy situation – Besides stabilizing the electricity supply, Government has made significant progress with respect to the interventions that were promised in the 2017 Budget Statement. Government has taken steps to deal with the financial difficulties in the sector. Better financial management has resulted in a dramatic improvement – dumsor has basically disappeared.
Among other landmarks Cabinet has approved include:

Cash Waterfall Mechanism to allow us distribute funds to all who must receive payment from ECG
Energy Market Oversight Panel - The EMOP was provided for under the Electricity Regulations, LI 1937 but has not seen the light of day since 2008.
Rationalization of PPAs
Move towards renewable energy
Private sector participation in ECG
WAGP reverse flow has been negotiated and is scheduled to be completed by March 2018– savings of $1 billion annually
Renegotiation of existing gas supply contracts -26% reduction in price
Energy Legacy Debt Restructuring Programme - $2.5 billion energy sector bond
Gas Supply from Equatorial Guinea -15 year deal (in 3 fivery 5-year tranches. Allow us to shift mainly from crude to gas in the generation of power
To reduce the price of electricity all future PPAs will be capped at a price of 10 cents per kwh

We have worked hard towards improving efficiency at our ports as well as the movement of goods within Ghana. From September 1 this year;

The process of clearing goods at the ports would significantly improve with the implementation of a paperless clearing system. Very soon we would be able to clear our goods in four hours and we can do so without even going to the port!
The removal of all internal customs barriers

We have decided not to implement the Vehicle Towing Levy that the NDC government passed.

Methodical and thorough investigations have been and are being conducted into reported acts of corruption to avoid any witch hunting. The results will be obvious for all to see soon. The Special Prosecutors bill will also be passed before the end of the year.

Our promise to restore allowances paid to Arabic teachers will also be implemented by October this year.

Youth Employment Agency (YEA) has started the process to recruit over 60,000 unemployed youth under the following modules: Youth in Security· Youth in Afforestation· Youth in Graduate internship· Youth in Paid internship.· Youth in Sanitation·

Infrastructure program in the areas of roads, railways, water and sanitation, ports, etc. Are on course.

In 8 years, with all the massive resources at their disposal (GH¢248 billion in taxes loans and oil revenue alone), the NDC could not implement so many policies but rather presided over economic decline. With just a fraction of those resources, and in just one year, Nana AkufoAddo is implementing :

Free SHS – will put money in the pockets of many parents and bring relief
National ID Cards
National Digital Address System
Zongo Development Fund
Development Authorities – Northern, Middle Belt, Northern, vehicles for allocation of the $1 million per constituency
staying current on its statutory obligations: NHIS, DACF, GETFUND, SSNIT, .
Restoring Teacher and nursing training allowances
Reduced fertilizer prices by 50% - bring relief to many farmers
Reviving the collapsed the railway sector
Ensuring stable power supply
Restoring economic growth (3.5% in 2016)
Dealing with corruption
Ensuring fiscal discipline
Ensuring debt sustainability
Reducing interest rates and inflation.
Improving Ghana's sovereign credit rating
Strengthening the banking system
Restoring Payment of Allowances to Arabic instructors
Expanding the industrial sector:

District One Factory
- Stimulus package for industry

Paperless port system
This is the manifestation of competent economic management. But this is only the beginning. There is more to come under the leadership of Nana AddoDankwaAkufoAddo. Much much more.Especially in the area of job creation.

Fellow Ghanaians, we are delivering on our promise of transforming the economy and by the grace of God we will continue deliver! InshaAllah we are on course, under the visionary leadership of Nana AddoDankwaAkufoAddo, to deliver a Ghana beyond aid.

God Bless President Nana AddoDankwaAkufo-Addo
God Bless the NPP and
God Bless our homeland Ghana
Thank you for your attention.