26 August 2017
|
Press Statement
Keynote Address By Williams Osei, Director For The Wills Anti-Corruption Foundation At The Second Edition Of The Annual Republic Concert By Wits Harmonic Choir And Orchestra Ghana
The Wills Anti-Corruption Foundation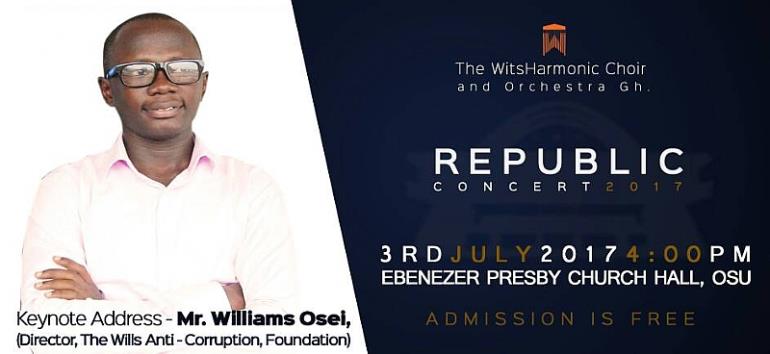 Event Theme: Ghana @60: Eradicating corruption for sustainable development
On 6th March 1957, sixty (60) years since we had our independence, Dr. Kwame Nkrumah, the first president of the Republic of Ghana, made this thought provoking statement "We have awakened. We will not sleep anymore. Today, from now on, there is a new African in the world! That new African is ready to fight her own battles and show that after all, the black man is capable of managing his own affairs. We are going to demonstrate to the world, to the other nations, that we are prepared to lay our own foundation."
About Three years later, on the 1stof July, 1960, 57 years ago, they gave to us what we were asking for, they gave us freedom, they left us to manage our own Affairs. Ghanaians were left to manage their own country.
In this sixty and fifty-seven years of struggle in Independence and being a Republic country respectively, one of our critical problems as a nation has always been corruption. It has become the chronic cancer of this Republic country.
Corruption has gained roots in Ghana as if it is a subject that is taught in Ghana schools. Corruption has turned this country upside down and only those who have eyes can see. Corruption is one of the key reasons why Africa has remained the poorest continent on the face of the earth and Ghana is not an exception.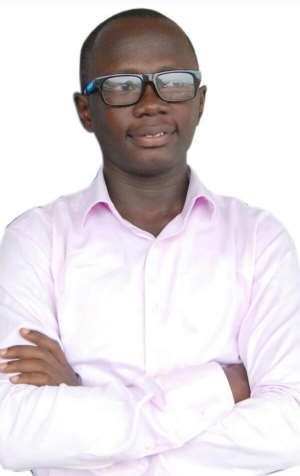 For many of us, corruption is the means by which we survive; we eat corruption; we breathe corruption; we drink corruption; in fact, corruption has become our life. Everything about us has got something to do with corruption
Corruption is something that exists, it is something we discuss, it is something we complain about, it is something whose negative impact we recognise, it is something we know to be a bad thing, but the unfortunate thing is that, those who engage in corruption enjoy it. Those who do not engage in corruption directly,entertain it. Corruption has taken over this country. You must be a stranger in this Jerusalem not to know this.
We live in a country where men and women sell their integrity for money, food, sex and wealth. We live in a country where even the market woman is corrupt. They fill their measuring bottles with candle wax before measuring a bottle of palm oil for their customers. We live in a country where those in public offices have become armed robbers with pens as their weapons. They are able to save over billions of cedis in weeks yet their monthly salaries are a little of thousand. We live in a country where those in black uniforms do not check anything on vehicles than to skilfully remove a cedi from license booklets. We live in a country where the boss sleeps with the young femalesubordinate before offering her a job. We live in a country where the lecturer sleeps with his female student to award grades. We live in a country where the cocoa farmer adds stones to his cocoa seeds just for it to gain weight before selling. We live in a country where the minds of its citizens are affected with a virus called 'only my stomach matters' What has become of the Blackman, the Ghanaian? We do evil works on week days and go to the church or mosque to disturb God on weekends. Corruption has become the three square meal of most of us yet we are called a Christian nation. I will say with no apology, we the Christians and Muslims are the problem of this country. It will surprise you to know, that a lot of us who engage in corruption are either elders in our various denominations or leaders at the Mosque. Corruption has taken over this country.
My brothers and sisters, I want to say clearly with no apology, corruption is a sickness, it is a cancer of the mind, and whoever is corrupt is sick and needs a national health insurance card to visit the hospital. The time has come that we give Malaria, AIDS and Corruption the same attention. This is due to the fact that, Malaria and AIDS are not dangerous as Corruption.
Today, we have gathered here to find a solution to this chronic cancer that has affected the 'mind'of this country's citizens.
Ghana @60: Eradicating corruption for sustainable development
In this part of the world, sixty has got a definition, it is noted for RETIREMENT.
If sixty implies retirement in our country, permit me to do a little substitution on our theme. Our new theme is
Ghana @Retirement: Eradicating corruption for sustainable development.
My fellow Ghanaian, you would agree with me that, at age sixty (retirement), there is usually no sign of proper strength for any serious work. How is Ghana going to fight corruption at age sixty? I see a parent who starts to work so hard or correct his mistakes after retirement. What great thing can you do when your strength is no more?
It is very true that when a person turnssixty, there is no sign of great strength to work more effectively and efficiently, however, mother Ghana is not a single individual who turns 60 and loses her strength, there are still an uncountable number of young men and women who can give their all for this important course. Eradicating corruption for sustainable development.
My fellow Ghanaians, this is not the first time a program is being organised on corruption. As a result, the question for us this evening is:
What difference can this program make? Is it going to be like one of these unproductive concerts that are organised just to engage the people because they have nowhere to go on holidays?
No , no, no!
How then do we make the difference?
It is our duty not to only speak against corruption, but to act against corruption anytime and anywhere.
Corruption cannot be eradicated by one person, it demands the hands of every one of us. If you stop corruption and I continue in it, I give corruption oxygen to survive. If I stop corruption and you continue, you give corruption oxygen to survive. Corruption will stop if we all decide to fight it. Let us together strip corruption naked, let's suffocate corruption.
Thank you.
The Wills Anti-corruption Foundation: integrity is not for sale!
Organization: The Wills Anti-corruption Foundation (The WAF)
Writer: Williams Osei
Editors: Christopher Nyame, (Teacher), My own Giov'HONEY (Spoken Word Artist)
Tel: + 233 545 322 678.
End corruption, it is a sickness, it is a canker.
The Wills Anti-corruption Foundation is an up-coming non-profit organization that seeks to fight corruption, injustice, laziness and other poor attitudes among Ghanaians and Africa as a whole. We give free public lectures on corruption, injustice, laziness and other poor attitudes and how they can be curbed. You can search for "The Wills Anti-Corruption Foundation" on Facebook to get access to other wonderful write-ups. Thank you.
Below is a list of some published articles
When a black and white uniform replaces the integrity of the Blackman.
When the Blackman thinks the key to success is the White man.
When the Blackman owns nothing. Africa, what do you have?
When a continent trains its own thieves. Is Africa thinking?
What my politician never told me. Is Africa thinking?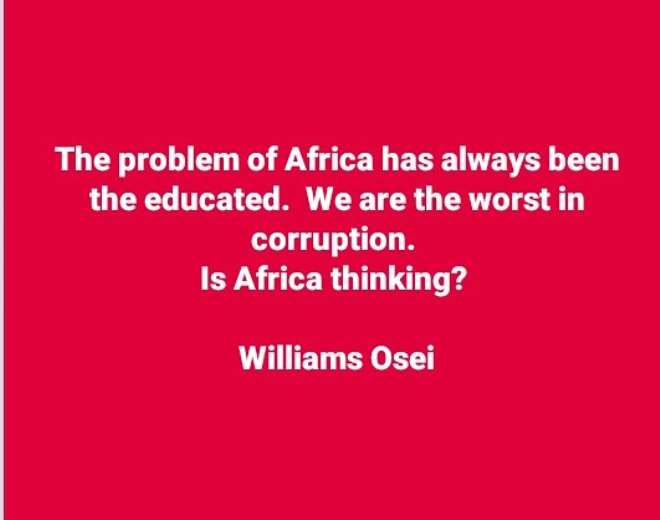 Img 20170817 003746