"We Don't Want Prof. Atta Mills"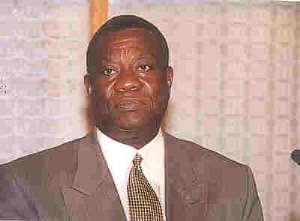 The followers of the National Democratic Congress (NDC) in Ashanti Region have rejected the statement made by the former vice-president, Prof. John Evans Atta Mills that he will be back in 2008 during the 'wahala' demonstration held in Kumasi.
According to them, they would not see any meaningful impact if Prof. Mills leads the party in 2008, adding that he has failed two conservative times, so he should stay away for young and dynamic politicians to lead the party in 2008. A top gun in the NDC disclosed that among other objectives is the proposal to have the former President and his Vice retire from active politics, adding that it will be good for Prof. Mills to stay away for the party to be 'replenished' by very virile men who once upon a time, rallied round the umbrella.
He hinted that they knew that their opponents were taking some of the potential sympathisers away, while the flak on Rawlings and the revolution days is also affecting the party. He noted that should the objectives set before the leaders be tackled successfully, the party will be strong come 2008, but if they failed we will remain as opposition. Sources also hint that very soon there will be talks with folks who left to set up Reform Party to see how best they can solve the problems.
He attributed the party's defeat in 2004 election to the fact that the ghosts of the revolutionary era have hunted the NDC, adding that it is better for Mr. Rawlings and Prof. Mills not to take prominent in the affairs of the party.