Impressions of Documenta 14, Festival of Contemporary Art.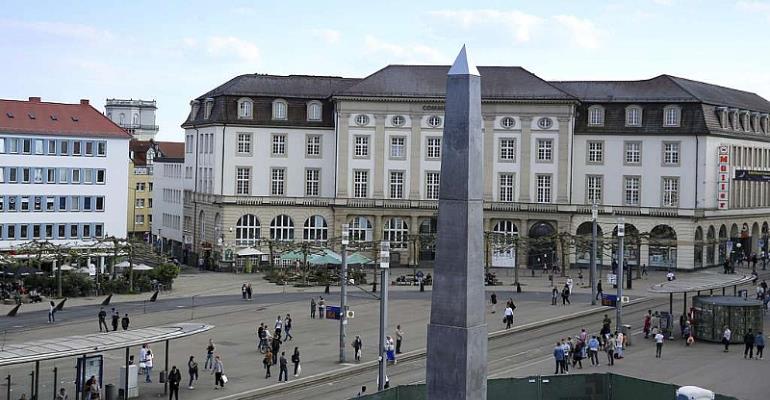 Documenta has established itself since 1955 as an indispensable art festival for all those interested in art and the future of art. Documenta 14 runs from June 10 to 17 September 2017. Whenever I visit Documenta, the largest and one of the best-known art festivals, that takes place every 5 years in Kassel, Germany, I try to see every art work displayed but obviously, one cannot comment on all of them. Below are my comments on a few artists and the works displayed.
OLU OGUIBE
On entering the city centre of Kassel, one cannot fail to notice the impressive tall obelisk by Olu Oguibe. Born in Nigeria, Oguibe, does not want to be identified as Nigerian artist because of his experience of the Biafran War in which he and his parents suffered a lot. However, he accepts to be described as African artist. His work, a monumental 16-meter-high obelisk, Monument for Strangers and Refugees, 2017, (Das Fremdlinge und Flüchtlinge Monument) has engraved on it a biblical inscription, in German, English, Turkish and Arabic, the languages most frequently spoken in the Kassel area. - I was …a stranger and you took me in-(Matthew 25:35). Oguibe's experience as a child during the Biafran war (1967-1970) obviously informs his work as an artist.
The central location of the obelisk, at Königsplatz, a few meters from the Documenta centre, Fredericianum, means that you cannot visit the art festival or Kassel without seeing this huge monument to refugees and strangers. One can interpret the obelisk, from the Biblical inscription, as a recognition for those who helped Biafrans in their hour of need and it might also be an acknowledgement of the generosity of Germany in welcoming thousands of refugees that entered the country in the last few years. It could also be seen as a challenge for the Germans to fulfil this biblical exigence, in view of the heavy criticism that emerged after the welcome of the first waves of refugees. Kassel has a lamentable past as headquarters of the German Army in Central Germany and was a place of strategic importance, a centre for the production of aircraft, heavy transport, and railway works. These factors made the town an object of intensive bombardment by American forces during the last World War. Such a monument, standing in the centre of the town might help in redeeming the tainted past of the town and project a more human image. The obelisk is also a declaration of the duty found in all cultures and traditions to help and assist the needy and those fleeing from their country. Kassel welcomed the Huguenots when they fled France in 1685.
I was excited to see the work of Oguibe as a practising artist. Before Documenta 14, I had not seen any of his artworks but had admired greatly his writings as a sharp art historian and read Reading the Contemporary (2000) which he edited with Okwui Enwezor. I now know that he is very good in both areas and from all I have read, he is also a multitalented person: poet, artist, art historian, novelist, academic professor, musician and perhaps, a dancer.
Oguibe was awarded recently the Arnold Bode Prize in recognition of his work in Kassel and Athens. The Arnold Bode Prize, named after the founder of Documenta, was presented by the city of Kassel which in its press release described the obelisk "as an affirmation of the timeless, universal principles of attention and care towards all those affected by flight and persecution."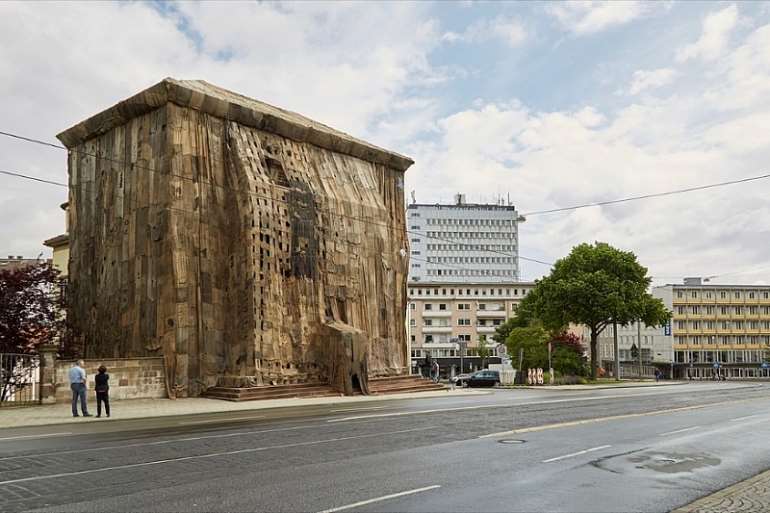 IBRAHIM MAHAMA (GHANA).
Check Point Sekondi Loco,2017.
At Documenta 14, Ibrahim Mahama draped with jute sacks two buildings that served in the past as watch-posts for guarding entry into the town of Kassel. The artist uses jute sacks made in Asia, utilized in Ghana for transporting cocoa, rice,
beans and charcoal for export to America and Europe and thus the jute bags may be considered as symbolizing globalization. The artist buys new bags which he exchanges for tattered ones from local traders and employs personnel recruited mainly from local markets. Mahama thus contributes to the Ghanaian economy.
Mahama's work attracted a lot attention at Kassel since his installation was for many a real novelty and showed originality in conception. We hope the artist will go on to use materials other than jute, that have a bit more colour. We realize of course that other materials may pose problems for use in the purposes of the artist but a little bit more colour could be exciting, in the work of the artist from Ghana where traditionally, bright colours are the norm as exemplified by kente and other traditional materials.
MANTHIA DIAWARA ( MALI )
We went with great expectations to see the opera film by Manthia Diawara, the well-known film-maker from Mali, An Opera for the World (2017) . I must confess I was disappointed by the film which seemed to have been made with a large amount of resources
The plight and suffering of refugees were well- brought to the attention of the cinema-audience but the justifications and explanations why the audience must support refugees could have been more strongly presented. Apart from appeals to humanism, another justification was that among the refugees there might be an Albert Einstein or some future genius. At the end of the film, we see the film-maker walking along a beach and proclaiming that it was the help of a neighbour that helped him as a student to become what he now is: a professor at a prestigious American university. Such explanations surprised me. Are highly gifted persons the only ones who deserve humanitarian assistance?
Supposing among the refugees there are persons who are physically and mentally handicapped, should we not assist them? We are happy to hear that Diawara was helped as a student by a generous neighbour but are we not mixing the categories of students and refugees?
I was expecting to hear something about the responsibility of Western States that have largely contributed to the chaotic and disastrous economic and political situation in many of the States where the refugees come from. Indeed, some of the States in those areas were created with the assistance of Western States. Does the film-maker not see any relations between colonial and imperialist rule and constant interventions that produce masses of refugees?
Humanism and personal sympathy cannot repair damages caused by solid and selfish political and economic interests. We should not leave such tragic events appear as solely expressions of the will of some evil persons but as calculated actions in pursuit of certain interests.
IGO DIARRA AND LA MEDINA (MALI)
I enjoyed the installation which consited of covers of LPS of the late Ali Farka Toure, his clothes, his guitar as well as his ID card, and driving licence but I kept asking myself, as I did with many other installations and videos at Documnta 14, whether this was also art. Is the collection of various archival materials relating to a great music hero and their assemblage by itself a work of art? I did not learn anything new about the great Malian musician from the installation and it did not increase or decrease my admiration for the blues singer par excellence. Ali Farka Toure's recordings with the great kora player, Toumani Diabaté, are considered great products of African music. But this may be the wrong question to ask at a festival of contemporary art where the boundaries of art are dynamically expanding and may not yet be recognized by all.
MARIA EICHHORN (GERMANY)

The Tower of Books by Maria Eichhorn consists of books that were confiscated by the authoritarian Nazi regime from German Jews. These displayed books from deported and murdered Jews were bought in 1943 by the Berlin City Library (Berliner Stadtbibliotek) from the Berlin Municipal Pawn Office (Städtische Pfandleihanstalt) and were indicated with a yellow sticker bearing the description Sammlungen J (Collection J.) Eichhorn named her project after Rose Valland
Rose Valland, was an art historian who worked in the museum Jeu de Paume in Paris, where the Nazis kept art works they looted during their cruel regime. Valland kept a list of the works the Nazis deposited there and it was with her help that some 20,000 artworks looted by the Nazi criminals could be returned to their owners after the war.
The Rose Valland Institute deals with looted property taken from Jews, including artworks, land property as well as jewellery and patents. Eichhorn has also made an open call to the public to contact her Institute whenever there are items in private ownership that they suspect could be looted objects. According to Eichhorn, there are still many looted objects and artworks that have not yet been returned to their owners and successors. These objects are in a depot where public institutions can borrow them.
I was shocked to read that there are still many artworks in German Museums with the indication Leihgabe (Loan) or Leihgabe der Bundesrepublik Deutschland (Loan from the Federal Republic of Germany) without any reference to their origin from Nazi collections of looted art. It makes you wonder whether there is any real or serious intention to return these looted works to their owners and their successors. There seems to be no end to the surprises associated with the Nazi regime even in contemporary Germany.
I was also impressed by the number of books that were displayed relating to confiscation of property by the Nazis and restitution. The vast scale of Nazi despoliation is astonishing and there are still far too many cases that have not been resolved. How long will all this take? Documenta has made a useful contribution in bringing this important matter to our attention but is this art or general information and education?
MARTA MINUJÍN (ARGENTINIA)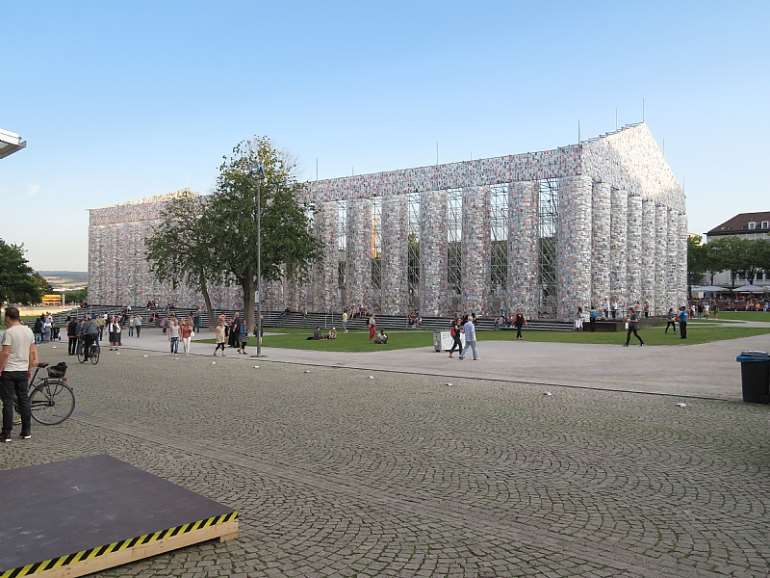 The Parthenon of Books
The star of Documenta 14 is undoutedly the Argentinian conceptual artist, Marta Minujín with her 12 meter high Parthenon of Books. The replica building has apparently the same dimensions as the original on the Acropolis at Athens. The Kassel Parthenon is however made up of books that have been forbidden at one time or another in some country in the world.The books are covered with a transparent plastic material as protection against rain and wind.
The list of forbidden books looks like a selection of books for the intelligent education of a young mind in the modern world. Indeed,many of my favourites featured on the list - Albert Einstein's Mein Weltbild, Balzac, Honour de: Eugénie Grande, Beecher Stowe, Harriet: Uncle Tom's Cabin , Carroll, Lewis: Alice's Adventures in Wonderland , Karl Marx and Friedrich Engels, Communist Manifesto, works of Heinrich Heine, Thomas Mann,Heinrich Mann, Sigmund Freud, poems from Kurt Tucholsky, Alenxander Solchenistyn, Bertoldt Brecht, Moby Dick by Herman Melville, Robert Musil's Drei Frauen and even The Little Prince from Saint Exupery. The Parthenon of Books is located in front of the main Documenta Hall, Fredericianum, at Friederichsplatz, at the place where the Nazis burnt on May 19, 1933 books they had banned in their campaign against the Un-German Spirit.(Aktion wider den undeutschen Geist)
BENIN BRONZES AT DOCUMENTA 14.
When I read that Benin Bronzes would be displayed at Documenta 14, I was delighted. I thought finally more and more people are beginning to become interested to know the great injustice that was inflicted on the people of Benin and Africa by the British Army when it invaded Benin City by the notorious invasion army, the so-called Punitive Expedition in 1897. That violent army killed innocent children, women and men and looted thousands of Benin Bronzes before burning the city. Thousands of Benin artefacts are in the Western world that shamelessly refuses to return any of the stolen objects and pretends to have an almost God-given right and duty to keep stolen artefacts of others.
I was in many ways disappointed by what I saw and read regarding the Benin Bronzes. I had read that the Benin Bronzes would be juxtaposed to the 8 national sculptures by Carl Friedrich Echtermeier (1845-1910), a German sculptor. In the exposition, the 3 Benin Bronzes stood in glass cases at the entrance of a corridor and the 8 huge marmor statutes of women, each representing the European States, England, Belgium, France, Netherlands, Spain, Italy, Germany, and another statue incongruously representing Rome stood in the corridor. I had assumed that the Benin sculptures would be placed before each of the national sculptures but there was a distance, albeit short between the glass cases and the sculptures.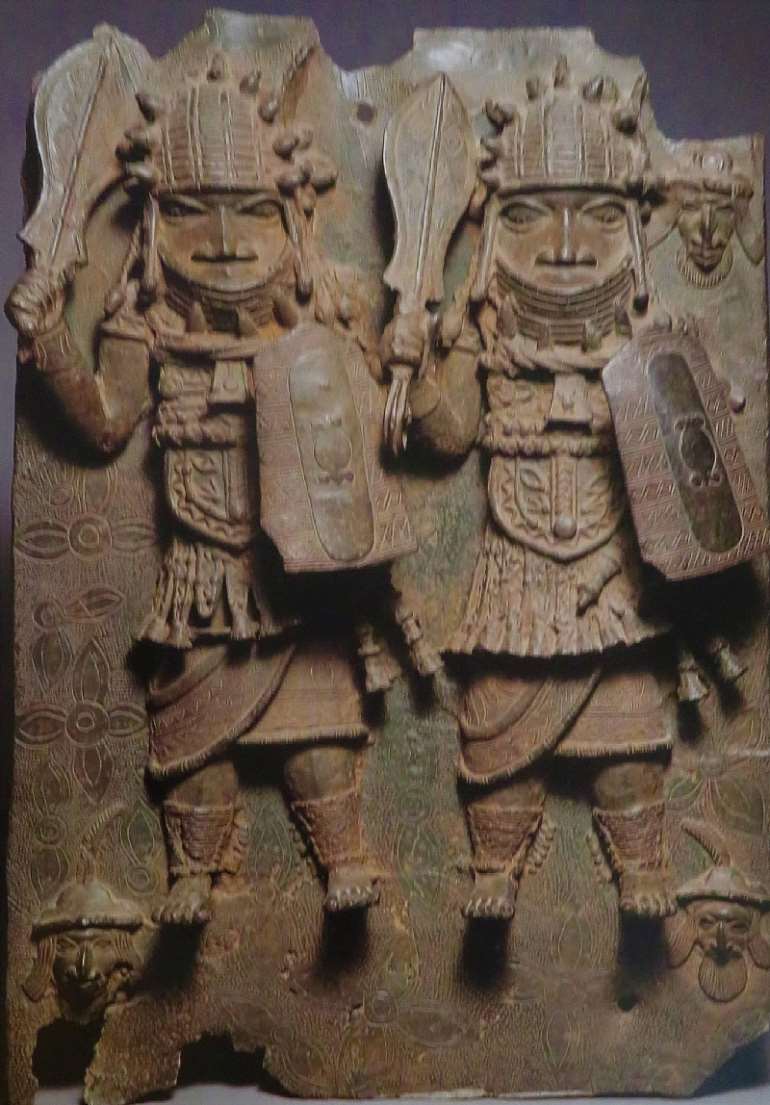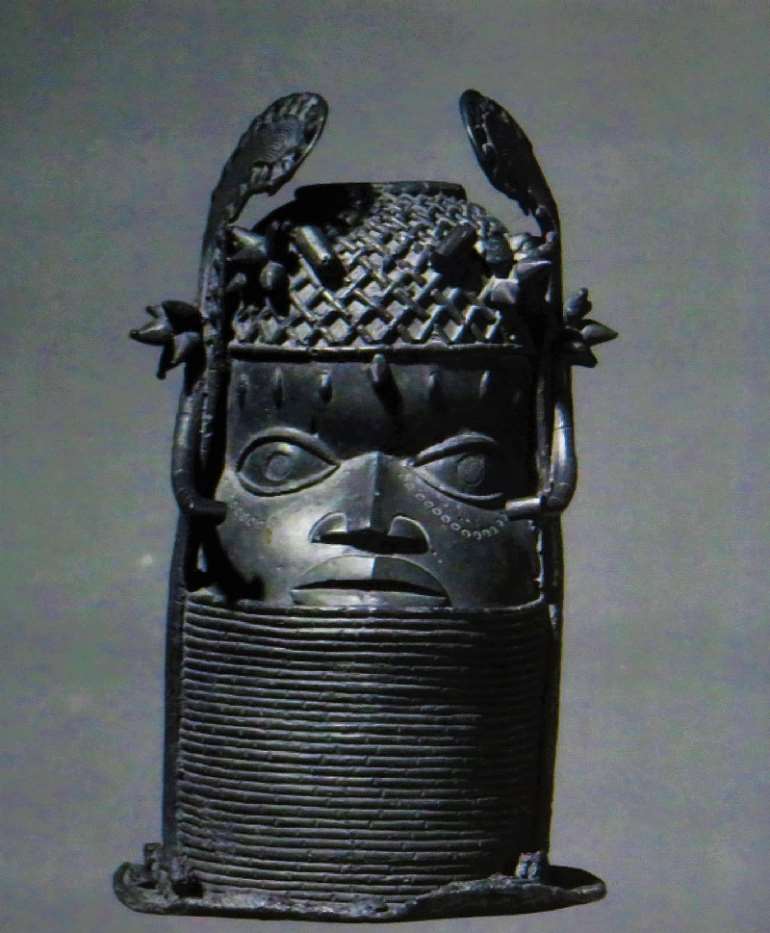 Three looted Benin artefacts, lent by the Five Continents Museum, formerly Völkerkundemuseum, Munich, that were displayed at Documenta 14.
Once I saw all the objects, I understood immediately that the Benin artefacts could not be compared to the statues by Echtermeier; their nature, (bronze v marmor), their size, (186x76x55cm v 48x33, relatively small objects), their purpose, (an artist's depiction of European States v objects made for a divine monarchy and recording its history.) So why bring together the works of Carl Friedrich Echtermeier who had no contact with Benin or was in any way related to the long-standing issues of the illegal and illegitimate detention of looted African artefacts by Western museums? The explanation I found is, in my humble opinion, insufficient to establish such a linkage or justify in any way bringing the name of a deceased sculptor close to those museums that refuse to return stolen artefacts:
From 1876 to 1882, the German sculptor Carl Friedrich Echtermeier (1845–1910) took upon himself the duty of producing a series of sculptures entitled "Länderfiguren" (National figures). These sculptures personifying European nations including France, Spain, Greece, Germany, England, and Italy, are still in Kassel's Neue Galerie today. Echtermeier's attempt was to create the canon par excellence. What Echtermeier left out of his equation was the arts of the so-called "rest of the world."
The Benin Bronzes—on loan from the Museum Fünf Kontinente in Munich—in juxtaposition with Echtermeier's sculptures evoke histories of exclusion, fallacies of canonization, narratives of dispossession, and colonial legacies. The constellation also poses questions about, and situates itself within, debates over national heritage.
Is it being seriously suggested that Carl Friedrich Echtermeier somehow failed in not taking into account the Kingdom of Benin and its arts? Would we apply such a test to our contemporay artists and suggest that artists who depict European States or African States or Asian States must necessarily take into account other States in the world?
I believe Documenta 14 failed here. Attention should not have been drawn to the national figures of Echtermeier and the Benin Bronzes. One could have explained the repeated adamant refusal of Western museums to return the violently looted artefacts to its owners and what this implies for freedom of artistic expression and the development of African art . Obviously, in that case, the Five Continents Museum, Munich, that holds at least 30 looted Benin objects, might not have agreed to lend its artefacts but that is another issue. Some enemies of freedom of freedom of thought ban books for decades until the ban is lifted later; others, prevent you from seeing your artefacts that are kept for centuries in their museums where you are not wanted, with no hope of returns.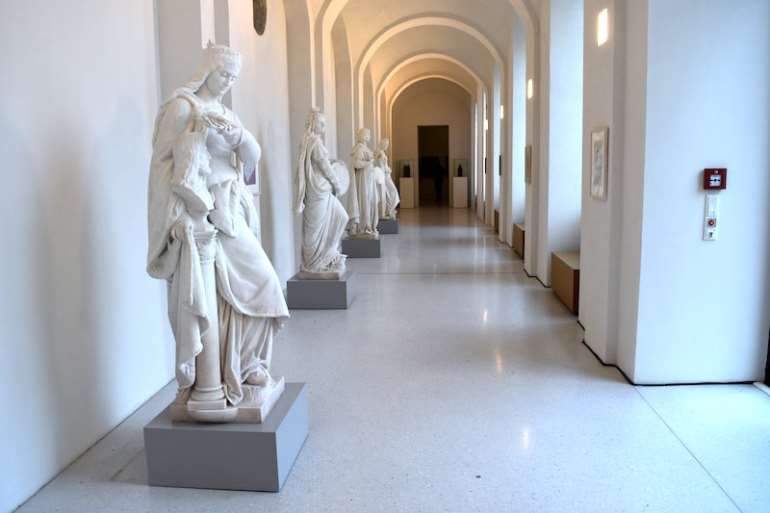 Carl Friedrich Echtermeier, National Figures ,(1876-82).
What is missing at Documenta 14 is a discussion on the continued illegal holding of looted African artefacts, such as the Benin Bronzes by Western museums. The general public is not aware that German and other Western institutions are still holding looted African cultural artefacts. Documenta 14 could have advanced this issue by raising awareness. More remarkable, is that nobody seems to be aware that Germany which has invested some 600 million euros in establishing the Humboldt Forum, Berlin, opening in 2019/20, has transferred to the new institution, looted artefacts from Africa and Asia that were in the Ethnologischesmuseum, in Dahlem, Berlin. Will this not be worthwhile to discuss in the context of an art festival where there are discussions on the restitution of Jewish books, artworks and jewellery looted by the Nazi regime? However, this transfer would not deceive anyone. Like the looted artefacts that France transferred to Musée du quai Branly, Paris, their status as looted objects would not change and the stigmata of illegitimacy will attach to them until they are returned to their legitimate owners . Africa and Africans do not seem to enter into many Western discussions on restitution and looted artefacts, even at a progreesive art festival such as Documenta.
Incidentally, the history of the killing of British officers which is offered as the justification or cause for the invasion of Benin in1897 should have been better explained. The soldiers were not killed in a trade dispute. The immediate cause of the Benin ambush has been accepted even by the British Museum as having been caused by the British. The imperious British went to Benin despite the fact that the monarch had informed them he could not receive them because of an important sacred festival that was taking place at the proposed date and had suggested they postpone the visit. Despite this warning from the monarch, they went to Benin City with an army of 120 soldiers disguised as porters, with guns in the boxes they were carrying. Obviously, the aim had been to launch a surprise attack on the Benin King, Oba Ovoramven, depose him and set up a pliable king who, unlike Ovonramwen, would submit to British imperialist hegemonic demands. The intruders were surprised and killed by Benin elements.
On the whole, we found Documenta 14 to be as interesting as the previous editions - 11, 12, and13, but perhaps somewhat less spectacular. Oguibe's obelisk, Monument for Strangers and Refugees, Marta Minujín, Parthenon of Books, and Ibrahim Mahama's drapped structures, Check Point Sekondi Loco, will be long remembered.
Documenta is one great festival where you do not have to be an art historian in order to understand or enjoy the works displayed. A certain awareness of social and political issues seems to be all that is required of the visitor. Here the political and the artistic meet. At what other art festival would you find displayed the notorious Black Code (Le Code Noir,1685) that governed trade in slaves and the treament of slaves, including all the harsh punishments?
What we would like to see happening in future Documenta is a reduction of number of artists participating (more that 170 artists), and consequently the number of locations of display (some 27 locations). Most of the visitors were exhausted by having to visit so many locations in the few days at Kassel. We will, of course, be at Documenta 15, in Kassel in five years time.
Kwame Opoku.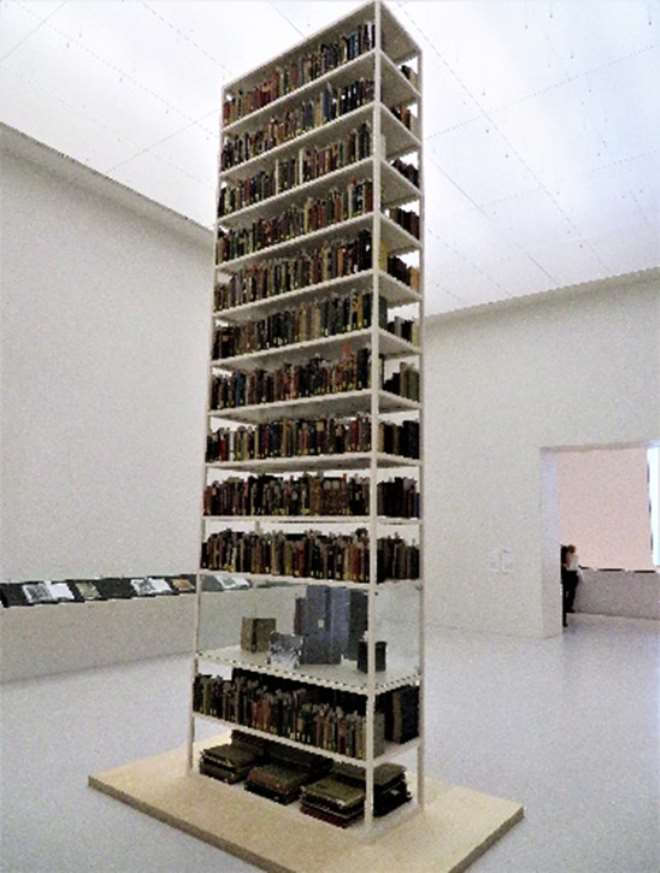 Maria Eichhorn, Tower of Books.