12 August 2017
|
Opinion/Feature
Schools To Close At 4pm: The Lame Argument Of The GNAT General Secretary
Angaangmene Doneenoe Maxwell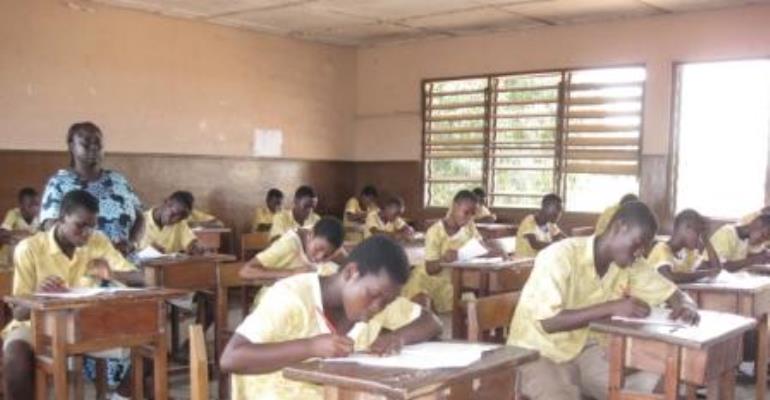 I have listened to an audio recording of the GNAT General Secretary, an interview he granted citifm, in the wake of a verbal proposal, I think, by the Minister of Education suggesting that schools' closing time should be extended to 4pm.
With all the apologies that might be desired, the General Secretary appeared more substandard than the minister on the issue at hand. In fact, his display of incompetence is unmatched and I employ all fellow teachers to avert our minds to that for now and let's let the minister be because his ignorance can be spared but not accepted.
What is the motivation of the General Secretary to sound this low in the wake of laughable, ridiculous, and ignoramus proposal by the most incompetent minister of education of all time? Why? Could it be because the increase in salary would bring about increase in dues? Could be because it will bring about increase contribution to Teachers Fund without consulting the contributors widely enough? Could it be because they could introduce some levies like the cancer levy? What at all could be the cause the General Secretary making those preposterous argument? Pathetic. No.
How can he argue that way? Is it not obvious that if your employer wants to do more, he is prepared to pay more? Why then should that be his argument?
I expected the General Secretary to make professional arguments to the Minister that his proposal is unfounded and exposes him (minister) as someone who lacks what it takes to handle the ministry. I expected our General Secretary to tell the minister that teacher's work does not end when school closes. It's the pupils who we close. I expected him to tell the minister that we prepare lesson plans, revise notes do research before the next day to enable us impart knowledge better. I expected him to the minister that teachers do co-curricula activities necessary for the comprehensive upbringing of the children. Marking of exercises at times, closing registers, training for sporting activities, etc are still done by the teacher. How can the General Secretary not tell the minister that unlike other workers who go to work and do what comes to them, teachers have to plan, research, make arrangement and organize for what has to be done before going for the next day's work.
How can our General Secretary forget of all that and be hammering on something that goes without mentioning? And to the all time incompetent minister of education, how do you expect the teacher to do all that if we should close at 4pm?
As for better remuneration, increase in salaries, allowances, we merit them. Our current paltry salaries isn't because of the time we spent at the school but the monumental hypocrisy of our leaders, GNAT, are often alleged to be betraying teachers at the negotiations table.
How can a leader of GNAT be this shallow in responding to such insult on us as teachers? How can he not proof that that cannot be the way to go but only to be talking of money? How can he not compare with other work groups who also have their conditions of service with timing as a factor? How? How? How?
If that is the backdoor agreement they had and plan for it to be said so that they respond this way in order to occasion hand-go hand-come, no way, I bet him, we won't allow. Yes!
I might not have the power to do otherwise if they trade me and my poor colleagues out for their parochial gains but I have my conscience to use. Yes, to use and get it that the persons we've employed and paying better than we're receiving are still slaughtering us for their meals under pretention that they are after our interest.
It is sad that the minister's argument is not because of bettering the standards but for teachers to be babysitters for other workers. Maybe, for that one, he is competent enough to know that the onus lies on government to up the standards of education. To provide the relevant TLMs, facilities, resources and on time too.
Angaangmene Doneenoe Maxwell
[email protected]