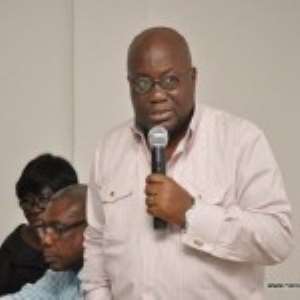 "...Clause 3(4) which was also not part of the original draft of the Bill, negates the whole promise that the President made during his campaign and after his assumption of office to fight corruption, if as it states the Special Prosecutor is not to investigate and prosecute corruption offences relating to the Public Procurement Act....and the Criminal Offences Act, '….unless the commission of the offence is in respect of a vast quantity of assets that (a) constitute a substantial proportion of the resources of the country; (b) threaten the political stability of the country; or (c) threaten the sustainable development of the country.'..." (Attorney Martin Amidu, 25 July, 2017).
Why do Ghanaian politicians approve of laws that punish people who steal eggs and not the entire chicken?
The new Speaker of the House of Parliament, Professor Aaron Mike Oquaye, ought to be ashamed of himself for his attempts at enshrining cover-ups.
The NDC Minority in Parliament ought not to focus solely on the process for the enactment of the bill. They ought also to be interested in the substance of the bill itself, unless they equally want the NPP to make fools of Ghanaians to the mutual advantage of the politicians, (i.e., cover up what some in the party are also stealing).
Maybe Professor Aaron Mike Oquaye's recent antics about the dual birthdays of Ghana is part of the Oquaye plot for hiding his face by dwelling on the unimportant so the good people of Ghana will keep their eyes off the crucial ball.
Why do Ghanaian politicians and legislators like Professor Aaron Mike Oquaye approve laws that punish people who steal hens and not the entire poultry farm?
Why do judges in Ghana punish, and many times even, direct decades of imprisonment for people who steal a hen, and not the entire poultry farm?
And those who steal a tuber of cassava, and not the entire cassava crop?
And those who smoke a Kwaw-Kese stick of marijuana that have negligible, if any, impact on the social well-being of the community in which they themselves live, let alone impact on the financial well-being of the whole of Ghana?
Yes, we totally agree!
Attorney Martin Amidu is right on point!
The "Mike-Oquaye-Procurement-Corruption-Clause" in the Special Prosecutor bill that says only theft that "constitute a substantial proportion of the resources of the country" would be actionable by the "Special Prosecutor" is a political farce.
It is a developing, naked, and self-serving ploy by Professor Oquaye and officials within/outside the NPP, as the government of the day, to maintain and promote corruption between and among politicians, other high level public officials, and foreign corporations and interests stealing daily from Ghana.
Didn't somebody say the other day that Attorney Ace Ankomah, the top defender of off-shore accounts in Panama and other peoples' countries, had a hand in that one, too?
"Procurement", our Google internet Business Dictionary inform us, is simply "The act of obtaining or buying goods and services."
Everything a government obtains or buys is acquired through a procurement process, unless it is a gift at arm's length, or stolen like they do in Putin's Russia.
That, we submit, is what citizens seriously challenged by officials operating in darkness and spending public resource ought to understand, today.
While we have great doubt about the effectiveness and usefulness of a Special Prosecutor bill without Constitutional muster, (i.e., a Special Prosecutor that is independently funded by constitutional statute and answerable only to an appellate court and/or Supreme Court), we nonetheless believe the public procurement system in its entirety is the major reason Ghana needs a Special Prosecutor, if Ghana must have a Special Prosecutor who will in fact fight official corruption without favor or rancor.
The Special Prosecutor bill for all it is worth, is President Nana Addo Dankwa Akufo-Addo's bill!
President Akufo-Addo is a lawyer!
We do not believe "Somebody...(is)... sabotaging the President's fight against corruption."!
The Special Prosecutor ought to have power to investigate and prosecute, (or refer for certain prosecution), any and every infringement of the Ghana procurement process, at any scope or scale, during their investigations into any and every case involving politicians, their cronies, and their connections and interests.
Speaker of the House, Professor Mike Oquaye and President Akufo-Addo must quickly enact the Special Prosecutor bill without that limitation with respect to Ghana "procurement process", the "Public Procurement Act", or exception(s) to the "Criminal Offences Act".
Do not further waste Ghana's time and resources, Speaker Mike Oquaye!
We say this today: Totally, and completely remove "Clause 3(4)" from the Special Prosecutor bill.
Show Ghana what you've got, President Nana Addo Dankwa Akufo-Addo.
Pass the Special Prosecutor bill without further delay.
So it goes, Ghana!
SOURCES & NOTES
(1) Amidu to Speaker, Maj. Leader: Don't undermine graft fight (http://www.accrafm.com/1.11181996).
(2) Don't undermine corruption fight in Special Prosecutor's Bill – Martin Amidu
(https://www.ghanaweb.com/GhanaHomePage/NewsArchive/artikel.php?ID=562784&comment=0#com).
(2) Procurement simply defined, (See at, http://www.businessdictionary.com/definition/procurement.html).
VISIT WWW.GHANAHERO.COM/VISIONS, FOR MORE INFORMATION:
SUBJ: Will Akufo Addo's Special Prosecutor Prosecute Only When Politicians Steal all of Ghana?
Support Fair-Trade Oil Share Ghana (FTOS-Gh) Campaign/Petition:
https://www.change.org/p/ghana-fair-trade-oil-share-psa-campaign-ftos-gh-psa/
Brought to you courtesy www.GhanaHero.com©11 Aug 17.
(Powered by: www.GhanaHero.Com).