11 August 2017
|
Business & Finance
MTN, GMIC Leverages Young Businesses To Grow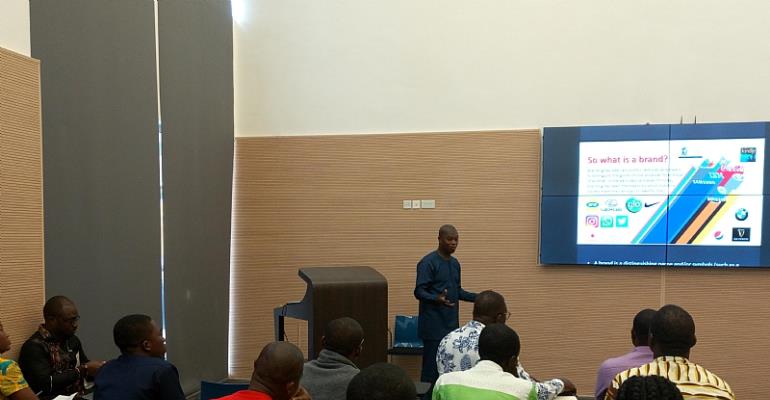 Ghana Multimedia Incubator Centre (GMIC) in collaboration with MTN has trained 19 young entrepreneurs in Technology Product Development and Branding to grow and sustain their business in the country and beyond.
Speaking on the sidelines, the Resource Person for the programme, Eli Kpodo, Brand and Advertising Manager of MTN, said branding is an important element and the heartbeat of every business that seeks to differentiate itself from other competing brands.
He indicated that branding is a very important aspect of product development which gives business owners the legal protection, draw strength and check premiums which to a large extent will expand the business in a better way than others.
"It gives you the opportunity to grow and introducing businesses by way of exploring business opportunities. We as businesses are trying to put training such as this to help our young folks who have brilliant business ideas or opportunities to be able to scale up in the market," Mr. Kpodo stated.
The Acting Project Coordinator for Ghana Multimedia Incubator Centre (GMIC) of the National Information Technology Agency (NITA), Emmanuel J. A. Fiagbenu said GMIC is a government institution set up to train entrepreneurs in ICT base innovations.
He noted that as part of the incubator programme, trainings are organized to equip businesses owners and young entrepreneurs with the required business and technology product development skills to grow and expand their businesses.
"Today's event is one of the series of trainings and we have decided to mentor and guide these young vibrant entrepreneurs who are desperate to make it in life with relevant knowledge," he stated.
Mr. Fiagbenu emphasized that branding is very important in every aspect of our lives especially in business because it gives business the identity and image people have about the product.
"How you brand yourself will depend on the value people will place on you and your product. Businesses have stages through which they grow and branding a critical aspect of product inception which differentiates it from other competing brands as well as reposition it on the market," he intimated.
According to him, all the fundamentals i.e. conceptualization, product development and the various cycles are relevant but however, it will get to a point where one will need to get an identity growing and developing through branding.
"You cannot develop your product in a vacuum. What distinguishes you from the other person's product is branding. So branding is as important as producing the product itself because if are not be able to brand the product after the production stage, you will definitely lose out," he posited.
The Acting Project Coordinator noted that in many cases most of the businesses that collapses is mainly as result of they not been able to undergo proper branding to increase purchasing desire of consumers in order to become more profitable.