11 August 2017
|
Opinion/Feature
The Told And Untold Stories Of Nurses In Ghana After Few Years Of Practice: The Journey So Far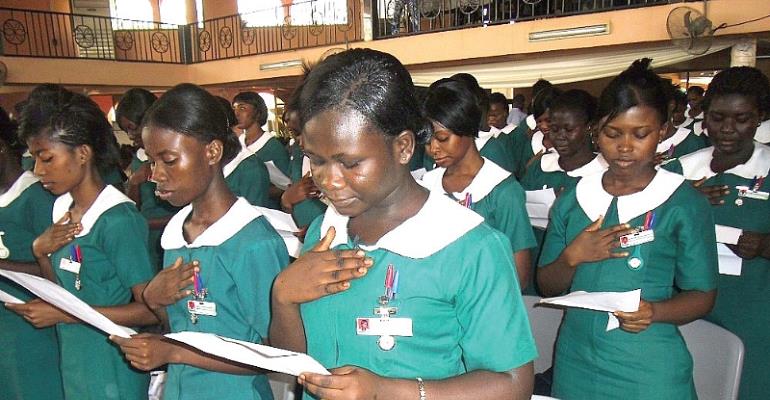 As a young chap I always loved to work for the sick, care for the needy and to see that smiles are put on the faces of the vulnerable. This became a reality as I fortunately got the opportunity to be trained and work as a nurse.
From the very early stages of the academic ladder I managed to be enrolled and trained as a nurse. As a profession with full of discipline hence was tagged as 'noble', most of the instructors forced us to learn and unlearn certain attitudes and that made us very good trainees 'in their faces' but that truthfully couldn't change all the bad ones as they envisaged and a typical instance to site is my good comrade Truddy who became very popular via social media after she decided to spend sometime out there with Facebook friends (forgive me friend); let's not forget, you can force a horse to the river side but whether it will drink or not can only be decided by this poor horse...
Having practiced for few years as a nurse I can boldly say that the nursing profession which some of us perceive to be 'a calling' has given us the opportunity to nurse both the rich and poor, young and old, etc as I pledged to do without discrimination.
Just like any other profession, the nursing practice has very good practitioners who humbly work to save lives here in Ghana. In many instances in all the settings that I've worked, it may interest you to know that there are very surprising actions nurses take in the hidden to ensure that the life of the Ghanaian is protected.
To begin with, there are instances where some nurses also act in very rude manner towards patients/clients and or their relatives. As a colleague nurse I will never praise this ungodly behavior but condemn it without fear. Patients and their relatives visit the hospital not because they find it pleasing to do or see these places as tourist sites but visit there as very frustrated people who need our help. It is therefore unnecessary for any nurse to maltreat a client for any reason.
But sometimes I also ask myself: will nothing cause a nurse to be angry ? Anyway......
To say it as a fact too, I will reiterate that these are very few people in the profession as we can find in any profession like I once encountered at the bank...
Interestingly some patients and their relatives also mistaken other hospital staff to be nurses and attribute some rude attitudes to them. Some patients have pointed to some kitchen staff and records staff at the OPD as nurses after some misunderstanding. Some also take orderlies in scrubs (theatre wear) as nurses and it must be noted.
Disclosing all of the 'lows' observed so far over the few years I've worked as a nurse, there are also very gratifying moments nurses act; sometimes seen but mostly not recognized only to save lives without considering the meagre salaries they receive and with no motivation.
I wept as a nurse when I met a colleague pregnant nurse hurriedly pushing a fully filled oxygen cylinder on a wheelchair at 1am to revive a patient. Fortunately this patient was saved but the poor lady after sometime lost the pregnancy; the motivation she received in the morning was a verbal message from another colleague to congratulate her.
There are very good preventive nurses who cover miles to enter every nook and cranny of villages across the country and sometimes on motorbikes only to make sure that certain children they do not know and are not related to in anyway get immunized. These are real situations I've witnessed within the few years I have practiced and I think it is worth stating even if they are not recorded in any day-book and worth mentioning just like the attention we give to that nurse who had a wrangle with a patient and or patient relative.
Let's not hesitate to bring to bare the lows of some colleagues that I do not want to defend though very defendable sometimes, but in the same manner let's also do well to show some recognition to a very large extent the good work nurses and midwives do.
I sometimes agree too that there's no need to announce the death of your mother when she dies in the public; I will entreat all colleague nurses to continue with the good work and it will surely announce itself.
I humbly want to chide all the bad nuts in the profession to also change for the better for the lives of the people in our care and for FLORENCE NIGHTINGALE sake...
Be blessed!!