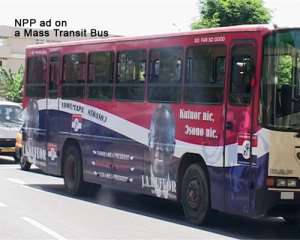 Mr. Rojo Mettle-Nunoo, the Communications Director of Professor Mills' Campaign for the 2004 General Elections, has accused the New Patriotic Party (NPP) Government of rigging the 2004 elections.
Speaking at the Ashiaman Mandela Park to mark the 26th anniversary of the "June 4, 1979 Uprising", Mr. Mettle-Nunoo said the first step the NPP Government took in rigging the elections was to give Ghanaians the impression that workers of the Electoral Commission were unhappy with their salaries.
He said the next thing they (NPP) did was to manipulate the voter's registration exercise in regions that were strongholds of the National Democratic Congress (NDC).
"…. Strong areas of the NDC were not given the registration documentation and in some areas they did not complete the photo ID taken", Rojo Mettle-Nunoo disclosed.
According to him, the real rigging took place on the voting day when, unprecedented in the nation's voting history, the first voting results started coming into the Electoral Commission Headquarters in Accra the next day after voting, at 1.15pm.
He said the next thing was that instead of faxes on the results of the voting coming from the Electoral Commissioner's representatives in the regions, "at a certain point in time we noticed that the faxes were coming from dubious and fictitious polling stations'.
Mr. Mettle-Nunoo said the other thing they observed was that instead of the Returning Officers signing the election result slips as well as the various party representatives, it was only the NPP representatives who were signing the slips and sending them to the Electoral Commission.
He said at the time that the election results were announced, it was only 24 election results that had been officially "seen by some of us".
Mettle-Nunoo said results from the rest of 106 Constituencies made it to the EC offices in Accra without their knowledge. He said Government money was used in securing fax machines and other logistics for the election and he did not understand why the election results should come from "odd centers".
He challenged the Electoral Commission to conduct a judicial enquiry into the matter, and welcomed contrary comments from Mr. Kwabena Agyepong, the President's Spokesman and Mr. Dan Botwe, then General Secretary of the NPP who were representatives of the NPP at the Electoral Commission.
Mettle-Nunoo declared to the crowd that Prof. John Atta Mills was the winner of the 2004 presidential elections.