Legon academic user fees up by 100%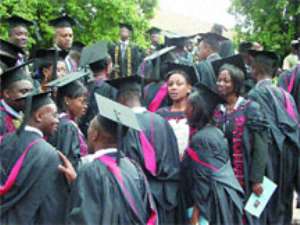 ... Legon students brace up for battle with authorities Accra, June 07 (Chronicle) -- The University of Ghana, Legon, has made public, the fee that continuing students of the institution would be required to pay for the next academic year which commences in August, with a little over ¢100,000 and ¢200,000 increase in academic facility user fees respectively. Student leaders at the University, however, say students would not be prepared to pay any additional amount as fees in August, maintaining that students can only manage to afford last year's fee.
Speaking to The Chronicle in an interview, the vice president of the Students' Representative Council (SRC), Mr. Justice Abdulai, said there would not be any justification for the authorities of the institution to charge any amount above what students paid for the last academic year.
He explained that students have not seen any significant improvement in the facilitities at the institution to warrant any increases in fees and again, given the current economic situation, it would be absolutely impossible for students to pay any additional amount.
The vice president pointed out that even with last year's amount, students found it difficult to pay, a situation he said, had resulted in many students currently owing various amounts as fee arrears.
"We would not warn of any possible "aluta" because we believe in using dialogue in finding solutions to our problems. But we are going to do everything possible to ensure that we pay the same fee as last year's," he said Speaking on the issue, the local president of the National Union of Ghana Students (NUGS) at the university of Ghana, Mr. Gariba Malik, said NUGS would be taking a serious look at the issue of fees at its congress which would held before school re-opens for the next academic year.
Mr. Malik noted that any attempt to increase school fees would amount to, as he put it, a deliberate attempt to make education a privilege for the few rich in the Ghanaian society instead of being a right that must be enjoyed by all Ghanaians.
The local NUGS president said students would use all legitimate means to resist any move to increase school fees for the ensuing academic year.
It would be recalled that, in August last year, students in the country's universities protested against a 100% and 30% increases in the fees that were charged for residential and academic facilities respectively. At a point, the students resorted to street demonstrations to back their demand for no increases in their school fees.
The students could not have their demands met as the increases were effected and they could not but had to give in, in order to go through the registration process.