Ensure peace at Bortianor - Deputy Minister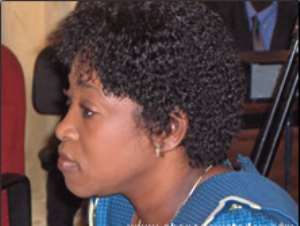 Accra, June 6, GNA - The Deputy Minster of Information, Ms Shirley Ayorkor Bortchway has appealed to factions in the Bortianor chieftaincy dispute to help bring a lasting peace to the area.
She expressed regrets that the area was lagging behind in development due to the protracted chieftaincy problems that had beset most of the towns in the constituency.
Ms Botchway made the appeal when she met the chiefs, elders and family heads of the factions in the Bortianor dispute in Accra to discuss ways of finding permanent solutions to the clashes. The Deputy Minister who is also the MP for the Weija constituency urged the people to put their differences behind them since that was the only way to develop and forged ahead as one people. She said the current situation, which had resulted in the loss of lives and properties with most residents displaced was regrettable and called on the chiefs and opinion leaders to work towards finding amicable solution to the problem.
Ms Botchway denied allegations that she had taken sides in the conflict, adding that, she has no knowledge of citizens being expelled from the town.
Nii Obgame Ankoma, head of one of the factions and Nii Kwei Arku V, head of the other group gave the assurance of ensuring that the residents displaced returned.
The Dzaasetse of Bortianor, Nii Akotey attributed the unrest in the area to improper demarcation of boundaries by one of the factions. The District Commander of Police in charge of the area, DSP Arkaah gave the assurance that the police would ensure impartiality in finding a solution to the problem in the area to foster peace among the people.
He said the case had been referred to the Police Headquarters because of the magnitude of the matter.