10 August 2017
|
Feature Article
Assibid Dauda of Binduri Fires Back Mr. Martin Amidu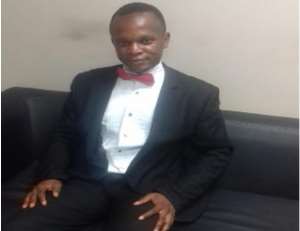 Dear Mr. Martin Amidu.
Greetings.
Where did your likes Martin Amidu jet off?
Mr. Martin Amidu are you sure you're okay?
How did we get here?
The NDC is now in opposition by kind courtesy of your likes! Congratulations Mr. Citizen Vigilante.
I can see you've started poking your nose and rearing your ugly head into the affairs of the NDC again what is it again?
You say wetin?
That Mrs. Charlotte Osei is incompetent and that she was put there to help the NDC rig the elections?
Like seriously?
Mr. Martin Amidu, you've over stepped your boundary. Enough of your HYPOCRISY.
You claim you're an anti corruption crusader right? That's a joke!
Mrs. Charlotte Osei is currently hot for fighting corruption in the electoral commission, is that incompetence? Misappropriation of funds of the electoral commission staff is the bone of contention. Shouldn't that interest you? Aren't you a citizen vigilante anymore?
Mr. Martin Amidu, GHc 20million was squandered in the Ghana @60 celebration. We were told the money was coming from corporate Ghana; till date we don't know who they are. We don't know who contributed what? We don't know their source of funding. We don't know how much was donated. Isn't this corruption? We're now being told that GHȻ5Million was taken from the District Assembly Common Fund for the 2 hours ceremony! Surprisingly enough the Ghana @60 committee have not been able to render proper accounts to Ghanaians. You've seen nothing wrong with that? Or have you suddenly lost your citizen vigilante oil in your blood?
Mr. Martin Amidu; Hon. Ken Ofori Atta; the Minister of Finance issued a $2.25Billion dubious Bond in 8 hours. The issuance violated industry best practices requirements and laid down procedures. The bond issue was shrouded in secrecy. 95% of the bond was issued to a business partner of the Financial Minister; conflict of interest is what we're talking about here. The cost of the issue is still unknown. Ghanaian banks were silenced in the deal. The law requires that bonds of this nature be advertised which was not adhered to. The law requires government and assigns to conduct due diligence on entities before engaging in any business transaction on behalf of the people of Ghana. Due diligence was not carried out on the successful bidder. The law requires that for bonds of this nature the Ghana SEC be notified. There's currently no board at SEC. This makes these technically non-functional. The law requires that for bonds of this nature the BoG be notified. They were not notified. The law requires that for bonds of this nature the Attorney General who is the principal state attorney be notified. She confirmed she wasn't aware of issuance of the bond. Mr. Citizen Vigilante you haven't seen anything wrong with this?
Mr. Martin Amidu, Boakye Agyarko, the Minister of Energy bribed Parliament with GHc 150, 000.00 to qualify for his vetting. Hon. Mahama Ayariga; the Member Of Parliament for Bawku Central Constituency; your own brother said it. You didn't see the need to stand up for him? Wasn't that corruption?
Mr. Martin Amidu, Alfred Obeng Boateng, the Managing Director of BOST sold 5million litres of contaminated fuel to his own unregistered company which was unlicensed. You've seen nothing wrong with that? Ain't you an anti corruption crusader anymore?
Mr. Martin Amidu, goats, sheep, guinea fowls, cows is currently the primary requirement for an appointment in this regime. Hon. Otiko Djaba, the Minister for Gender said this publicly. You've seen nothing wrong with that? Ain't you a citizen vigilante anymore?
Mr. Martin Amidu, our 110 ministers are unable to fight common Army Worms. This is super incompetence. You've seen nothing wrong with that?
Mr. Martin Amidu, invincible forces attacked a senior police officer by name ASP Nanka Bruce at the Flagstaff House under CCTV cameras. Till date no single arrest has been made. Delta forces stormed the Ashanti regional circuit court, attacked the Presiding judge, vandalized properties and freed it's co-terrorists members who were standing trial for unlawfully entering the Ashanti regional coordinating council and assaulting the regional security coordinator with the reason that they didn't know him and could not comprehend why the President didn't appoint one of them as the Regional security coordinator. Invincible Soldiers stormed the Tema Metropolitan Assembly premises to stop proceedings and threatened that what will happen in Accra would be worse than what happened in Kumasi if they are not employed. You've seen nothing wrong with that?
If this is not witchcraft then what is it?
I should not be responding to you because you're a senior Comrade but understand this; one who brings untrodden faggots to his house should expect the visit of Lizards.
Enough is enough; thanks for the memories Mr. Martin Amidu but it's time to say goodbye. I will be joining forces to sign a petition for your suspension from the NDC. We want to organise ourselves not antagonize ourselves.
Enough said.
#LetsSeeHowItGoes
Assibid Dauda
Binduri Youth Activist.