9 August 2017
|
General News
 'Oil Paint' deposit found at Agona Abodom As residents yield for Factory to create jobs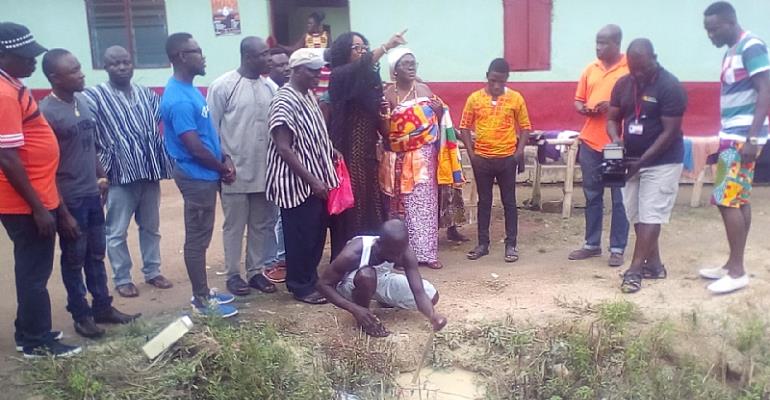 The NPP Member of Parliament for the Agona West constituency in the Central Region, Hon. Cynthia Morrison says large deposit of oil paint has been discovered at Agona Abodom and could be utilized to create jobs for the youth in the area under One District One Factory policy.
In an interview with newsmen at Agona Abodom recently, the MP noted that the suppose oil paint deposit had been with the people since 1940s but lack of technology to process it has been a problem.
She disclosed that her attention was drawn when she visited the place to canvass for votes in the wake of the 2016 Presidential and Parliamentary elections where she pledged her commitment to ensure that the deposit was processed commercially to create job when given the nod.
" Thank God the people voted massively for me and Nana Addo Dankwa Akuffo Addo and my humble self. Fortunately the NPP promised to create jobs for the teeming unemployed youth.
The suppose Oil Paint when tested to be real paint, the the One District One Factory will take off very soon at Agona Abodom.
Experts from the Mineral Commission have come to inspect the field and hope there might be large deposits of the paint and could be mined for export to generate income for the constituency and the country as a whole"
Hon. Cynthia Morrison assured the people that if proven to be of good quality, more jobs would be created to reduced the rather high rates of poverty in the vicinity.
The Agona West MP also announced that employable programs and policies like the Youth Employment Agency (YEA), Planting For Food and Jobs, expansion of the School Feeding Program, Metro Mass transport service popularly known as ' Kuffour Bus' Mass Cocoa Spraying and others have been introduced to create more jobs.
The Agona West constituency Organizer of NPP, Mr. Kofi Osei encouraged the youth to take advantage of various policies that has been introduced by the government to better their standard of living.
He said Cocoa Spraying Team has been formed to assist farmers in insecticide control adding it would boost cocoa production.