9 August 2017
|
Politics
Apologize To Prez Mahama—Joshua Hamidu Akamba Tells Akufo-Addo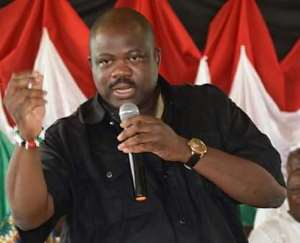 After ruthlessly chastising, criticizing and painting former President President Mahama black for cheap political points, Nana Akuffo Addo and his NPP government, have shown to be the most Incompetent government in the history of this country.
The pains, hunger, disappointments and frustrations bestowed on Ghanaians by this administration, is enough to conclude that this government is a reckless one and is only in to burden the Ordinary Ghanaian.
Nana Akuffo Addo, Dr Mahamudu Bawumia and the New Patriotic Party must apologize to Former President John Dramani Mahama for chastising and criminalizing his resolve to seek external support to provide Life Changing Infrastructure, which ameliorated the living conditions of the ordinary Ghanaian.
Is it not interesting, that the "Apostles Against Borrowing" have increased Ghana's public debts by a whooping $15 billion only in 6 months, through borrowings?
Today, Dr Bawumia calls on Ghanaians to celebrate government for contracting loans from China?
The only thing Akuffo Addo has done in the past 7 months, is to shortchange Ghanaians with lies and deceits.
The Intended introduction of a scholarship scheme for SHS one students instead of the promised "Free SHS" for all SHS students, the sale of fertilizers to cocoa farmers who used to get them free under President Mahama and the attempt to legalize corruption, tells a story of a party that got power through lies and deceits.
The Scandalous $2.25 Billion Bond raised by President Nana Akuffo Addo's Cousin Ken Ofori Atta, the sale of Oil worth ¢15 million for just ¢5 million in the name of contamination to an unregistered company, the secret disbursement of over ¢5 million from the District Assembly Common Fund for a supposed celebration of the Ghana at 60 celebrations among other scandals, have all been swept under the carpet by the President.
Surprisingly, the Senior Minister Mr Yaw Osafo Marfo has made us understand that the International Monetary Fund(IMF) has not banned government from recruiting into the public service but rather, the public service is full and that the Akuffo Addo's government cannot create employment. This is contrary to what they said prior to the 2016 elections.
The Senior Minister made this pronouncement at a time that he has swiftly gotten his son to serve as Deputy Director for SSNIT. This implies that there is space for him and his cronies to employ their families and friends but the ordinary Ghanaian whose taxes feed them, cannot be employed.
This is Obviously a government that cannot be trusted.