8 August 2017
|
Business Features
Ghana Loses US$ 150 Million In Oil Revenue Due To Risk Aversion
Yaw Ohemeng Kyei Columnist || Ghana Business And Finance Magazine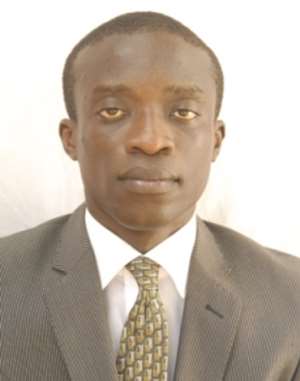 Ghana lost more than US$150 million in oil revenue because the country refused to hedge the black gold in the year 2016. This was uncovered at the launch of the annual report of the Public Interest and Accountability Committee (PIAC) on management of petroleum revenues for the year 2016.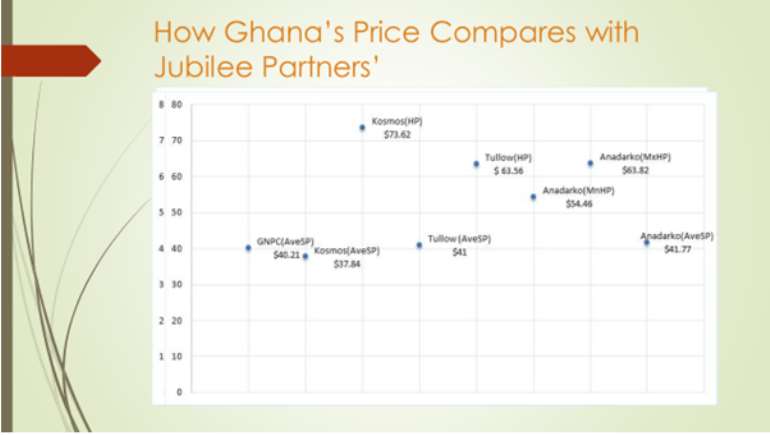 TABLE 1 : CRUDE OIL LIFTING BY JUBILEE PARTNERS IN 2016
| | | | |
| --- | --- | --- | --- |
| Name of Company | Number of Lifting | TotalLiftings (barrels of oil) | Percentage of Total Liftings |
| Tullow Ghana Limited | 9 | 8,805,677 | 33.69 |
| Anadarko & Petro SA | 7 | 6,708,340 | 25.67 |
| Kosmos | 6 | 5,759,534 | 22.04 |
| Ghana Group** | 5 | 4,860,462 | 18.60 |
| Total | 27 | 26,134,013 | 100 |
Source: PIAC REPORT 2016
Ghana's crude oil from the jubilee field was sold at an average achieved price of US$46.13 per barrel which compares favourably with the average dated Brent price of US$44.01 as well as the average price of all the Jubilee Partners (Tullow-US$41.7; Anadarko-US$43.93; and Kosmos- US$45.94)
However, the Jubilee partners were able to sell a portion of their liftings at the price( referto table1 above for price) as a result of their respective hedging policies, with Kosmos and Tullow realising a unit price of US$73.76 barrel and US$61.7 barrel respectively.
Granted that Ghana hedged all the 4,860,462bbls at a hedged price of US$73.76 that Kosmos hedged part of its lifting, Ghana would have made a revenue of US$358,507,677.12 instead of the US$207,787,586 recorded in 2016, (the proceeds exclude the amount realised from the 35th lifting carried out on December28, 2016 and that of the solitary lifting from the TEN field because those figures will be captured as part of 2017 revenue).
Thus for 2016, Ghana taking the position of risk aversion, the country lost potential revenue of US$150, 720, O91.12, an amount more than the entire budget of the Ministry of Agricultural, Ministry of Petroleum, and the Lands and Natural Resources Ministry for the year 2016.
TABLE 2 :SCENARIOS ON HEDGING BY GHANA GROUP
ASSUMED HEDGED(TOTAL LIFTING)bbls

TOTAL LIFTING

(bbls)

PRICE SOLD

(US$/bbl)

TOTAL REVENUE

HEDGED PRICE

ESTIMATED TOTAL REVENUE

EXPECTED EXTRA MONETARY GAINS

4,860,462

4,860,462

US$46.13

US$207,787,586

US$73.76

US$358,507,677.12

US$150,720,091.12

3,240,308

1,620,154

US$46.13

US74,737,704.02

US$73.76

US$239,005,118.080

US$105,955,236.10

1,620,154

3,240308

US$46.13

US$149,475,408.0

US73.76

US$119,502,559.040

US61,190,381.08
In table 2, assuming Ghana hedged its entire lifting of 4,860,462, the country would have gained extra US$ 150,720,091.12. if the country hedged two-thirds of its total lifting and sold a third at the spot market price of US$46.13, the country would have made extra gain of US$105,955,236.10 and lastly, even if the country decided to hedged a third of its lifting, the country would have gained extraUS$61,190,381.08.
Table 3: DETAILS OF THE RECEIPTS FROM THE SALE OF JUBILEE CRUDE OIL IN 2016
PERIOD

DATE OF LIFTING

RECEIPT DATE

VOLUME OF LIFTING

SELLING PRICE

VALUE OF LIFTING

dd/mm/yy

dd/mm/yy

Barrels

US$

US$

GHC

1ST Quarter

08-Dec-15

7-Jan-16

948,118

37.692

35,736,463.66

135,687,778.87

02-Feb -16

3-Mar-16

947,980

32.164

30,490828.72

117,676,304.36

2nd Quarter

14-May-16

13-Jun-16

995,152

48.408

48,173,318.02

187,818,132.30

3rd Quarter

10-Aug-16

9-Sep-16

983,847

47.250

46,486,770.75

183,855,178.32

4th Quarter

23-Oct-16

22-Nov-16

949,320

49.404

46,900,205.28

186,644,056.93

TOTAL

4,824,417

207,787,586.43

811,681,450.78
SOURCE: PIAC ANNUAL REPORT 2016
HOW CRUDE OIL PRICES ARE DETERMINED
Crude oil prices like other commodities are determined by demand and supply. When the demand for crude oil is high and supply is low, the price of crude oil increases. Alternatively, when the demand for crude oil is low and the supply is high, the price of crude oil decreases.
Determing the price of crude oil, because of its unique nature is howevernot limited to the law of demand and supply only but other factors such as:
Long lead times in exploration and oil field development
The chain of major upstream technologies such as pesticides and plastics
The influence of OPEC
Global Instability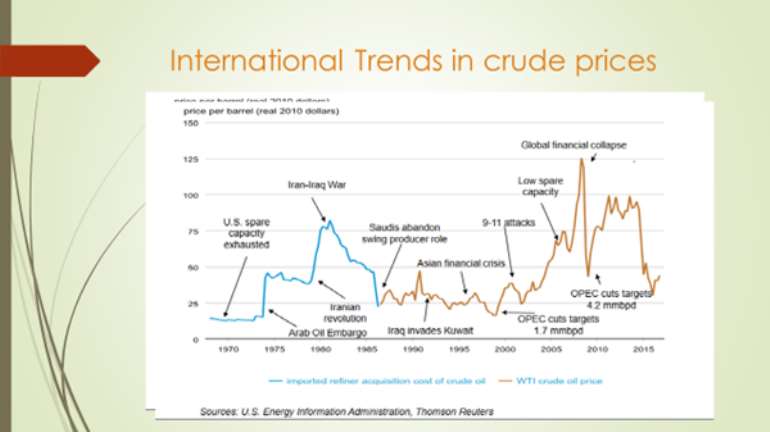 INTERNATIONAL CRUDE OIL BENCHMARKS
Several benchmarks exist with each representing crude oil from particular part of the globe. However they are pegged at any of these internationally recognised benchmarks:
Broom, Rannoch, Etieve, Ness, Tarbat (BRENT)
West Texas Intermediate (WTI)
Dubai/Oman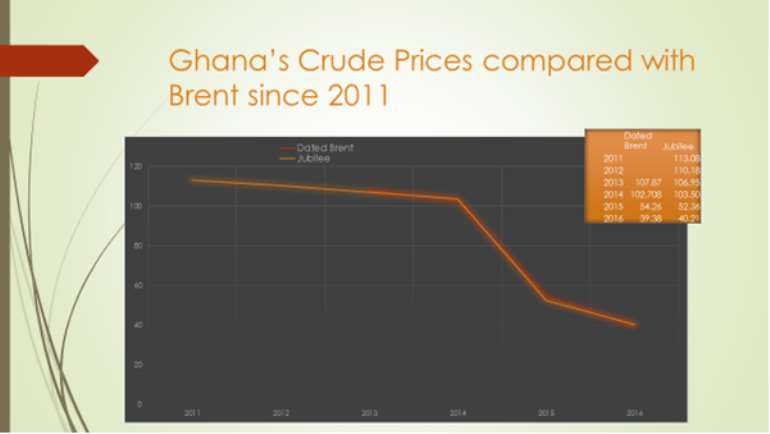 OTHER RECEIPTS BY GHANA
In addition to the revenue from direct sales of the Jubilee crude oil. Ghana also received US$29.55 million in corporate income tax, US$9.30 million from gas sales, US$465,030 as surface rentals and US$73,149 as interest earned on undistributed funds held in the petroleum holding funds thus bring total revenue received in 2016 to US$247.18 million
RISK MANAGEMENT
Risk management is a scientific approach to the problem of risk that has as its objective the reduction and elimination of risks facing an entity. Many entities have highly trained individuals who are specialists in dealing with risk; other entities have an entire department entrusted with dealing with risk. An entity could choose to be either risk averse, risk taker or risk neutral but it can be inferred that Ghana has chosen to be risk averse and has paid dearly for that position. A little research on futures market and capacity building in that area could have saved Ghana from the embarrassing losses.
FUTURES MARKET
Futures market is a market in which futures contract are bought and sold. Participants in the futures market are basically hedgers and speculators. A hedger normally is the party who is at risk of an adverse movement in the price of the underlying and uses future market to reduce risk. The hedge can be a position held already or for an anticipated position.
For example, an airline engages in anticipatory hedge by buying oil futures to anticipate a need for oil at a later time.
Hedging could also be in the following areas:
A portfolio manager who anticipates receipt of funds in the future which he intends to invest in bonds. If the portfolio believes that bond prices are attractive and are likely to rise prior to receipt of the funds for investment due to falling interest rates, he could hedge his anticipated purchase by buying bond futures contracts.
Speculators on the other hand seek to take risk by buying and selling futures contracts in anticipation of favourable price movement. Hedgers provide the liquidity necessary for futures market. The majority of transactions are normally between speculators resulting in price discovery.
For instance, a speculator who believes that the price of cocoa is likely to rise due to an expected reduction in supply to meet demand will buy cocoa futures although such speculator has no special or particular interest in cocoa .
Secondly, a trader will sell his bond futures contract if he is convinced that interest rates will be rising perhaps, after analysing market data. This is because such an event will lead to lower prices for bonds.
HEDGING
Hedging is the act of taking equal and opposite positions in the cash and futures market what one expects to do at a later time in the spot market. In this way the future position serves as a temporary substitute for the later spot market transaction, thereby transferring the risk of buying or selling in the spot market to someone on the other side of the transaction.
ADVANTAGES OF HEDGING
REDUCES VOLATILITY OF OIL REVENUE
Hedging prevents price fluctuation. With hedging, a country will not be anxious about price movement on the international market. With hedging, parties agree on a particular price which may be above the spot price and that price will be expected to remain so for a long period of time irrespective of demand and supply of crude oil. That system eventually assists countries to plan and stay in the plan irrespective of price shocks.
For instance, according to the 2016 budget, crude oil prices reached US$59.82 a barrel in June 2015 and fell to US$42.46 a barrel in September 2015 compared to Ghana's annual benchmark revenue projection of US$99.38 a barrel for 2015 which was later revised to US$57 per barrel. Obviously that revision disrupted government revenue but with a hedging policy in place then, government policy will stay intact under same scenario.
GUARANTEES CRUDE OIL PRICE OVER THE PERIOD OF THE HEDGE
Hedging assists countries to stick to particular price over the period of the hedge. With hedging in place, a country will not need to revise budget estimates due to falling price of crude as it happens in Ghana. This is due to the fact that although international prices might change, a country may be receiving guaranteed price above the falling international price.
PREDICTABILITY OF REVENUE FOR BETTER PLANNING
Hedging makes it possible for a country to predict revenue over a period of time. This is because, with hedging, the country is certain about cash flows of the commodity and can subsequently be crucial for better planning.
DISADVANTAGES OF HEDGING
OUTCOME CANNOT BE PREDICTED
The outcome of hedging cannot be predicted with certainty. A country can hedge its crude at a hedge price of US$80/barrel at the time when international market price is US$50/ barrel, what will be the fate of the country if the spot price of the commodity changes from US$50/ barrel to US$120/barrel. It will greatly affect the economy of that country. That explains why some experts see hedging as gambling.
EXPERTS ARE NEEDED FOR HEDGING
Finance Experts are needed in hedging. It is difficult and expensive to hire, motivate and retain these finance experts. Besides, there is no guarantee that they will deliver and assist the country to gain because hedging is similar to a game of chance.
CAPACITY BUILDING HAS NOT PAID OFF
Since 2011, government has spent so much money on capacity building. Definition of capacity from government has not been convincing. Indeed, capacity building has consumed about 11% of oil revenue and in the region of GHS358 million but on the ground there is virtually nothing to show.
This makes one wonder where all the funds for capacity building went. How can a nation spend GH358million on capacity building but cannot build capacity of officials to study and understand derivatives to enable Ghana hedge and rake in more revenue, something that Kosmos, a mere multinational was able to do so well.
COMULATIVE EXPENDITURE FROM ABFA ON PRIORITY AREAS 2011-2016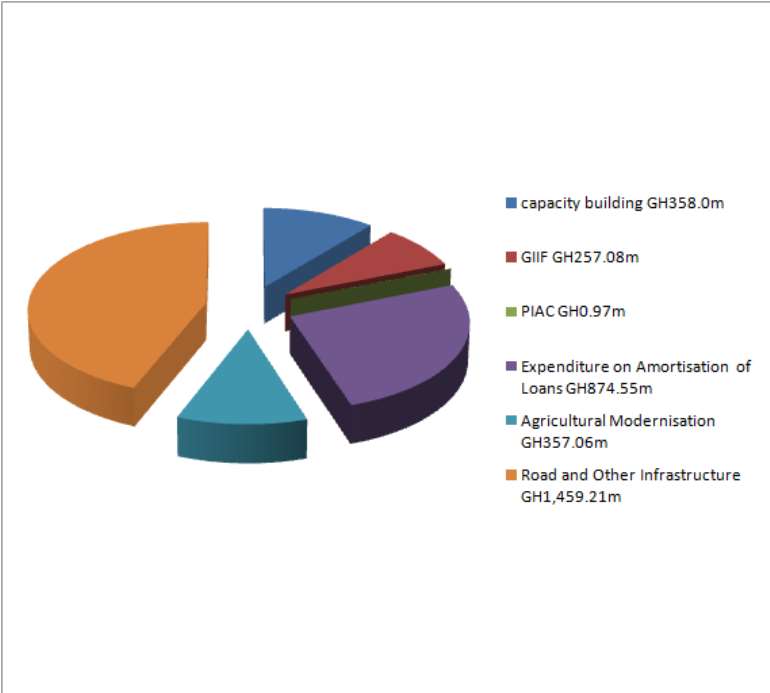 SOURCE: PIAC 2016 REPORT
CONCLUSION
Government must take a second look at the hedging policy. Although it is risky, government must understand that higher risk moves in tandem with higher returns. If government does not have finance experts with the specialisation in hedging, it can poach them from other countries or institutions. Alternatively, government can decide to move in tandem with Kosmos and Tullow oil so as they hedge part of the crude, we also hedge part of our crude. Some opponents will quickly recall the bleak results of hedging by Ashanti Goldfields Corporation but they fail to recognise that 'you do not stop drinking water because your child was drown.'