7 August 2017
|
Economy & Investments
We'll overcome economic challenges Mahama left – Nana Addo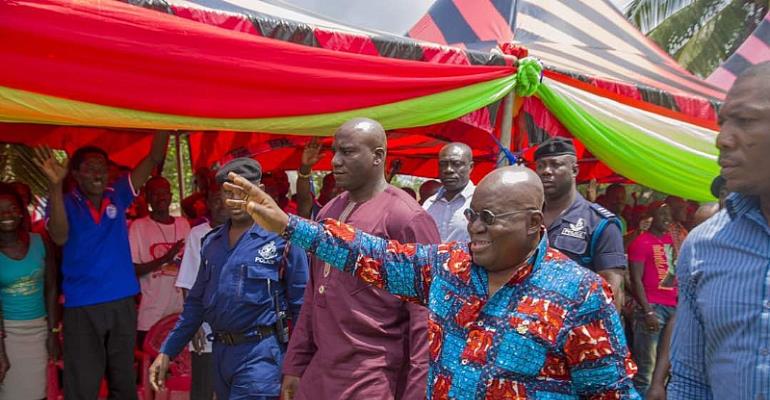 President Nana Akufo-Addo is confident his government will overcome the economic challenges  left by the Mahama Administration.
Speaking before the people of Bibiani at a durbar, he said his young government is already fulfilling its pledges despite the economic mess inherited by his administration.
According to President Akufo-Addo, "when we came into office, we were met with huge debts and no money. It is for this reason that we put in place the appropriate measures to strengthen our monetary system, so the development we promised the people can be met."
This Administration's first budget has ensured that the country's finances have been placed on a solid footing to ensure the fulfillment of the promises, he said.
President targets 1.5 million tonnes cocoa production
Touching on the dwindling fortunes of the cocoa sector, President Akufo-Addo noted that the policies and programmes instituted by former President John Agyekum Kufuor ensured that the cocoa production hit 1 million tonnes in 2010/2011.
However, cocoa production has since declined, with the 2015/2016 crop season recording a production of 778,000 metric tonnes.
The President has however set a target of 1.5 million tonnes for his administration.
"My government is going to increase cocoa production again to 1 million tonnes, and move it to 1.5 million tonnes in the course of my mandate. We will also ensure that cocoa farmers gain their pride of place in our society. We will make the cultivation of cocoa a source of gainful employment once again," he said.
The 1-District-1-Factory policy, President Akufo-Addo noted, will be rolled out in the course of August, and the construction of the Western Railway lines will also begin shortly. with these two initiatives creating hundreds of thousands of jobs.
He added that these two initiatives are expected to create hundreds of thousands of jobs.
–
By: Delali Adogla-Bessa/citifmonline.com/Ghana