Asantehene urges GRA to intensify tax education for compliance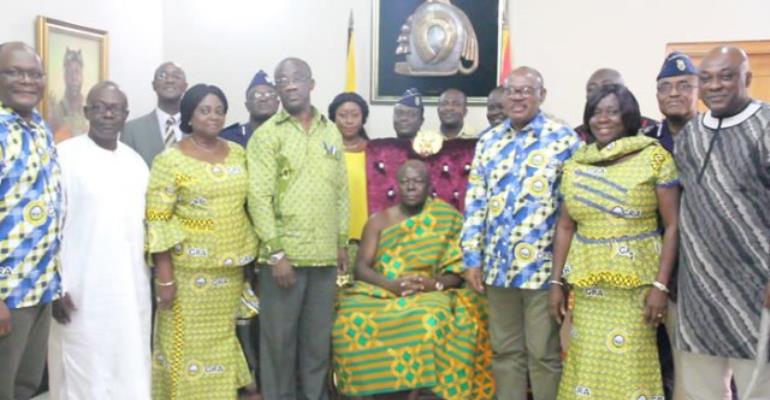 Asantehene Otumfuo Osei Tutu II has urged the Ghana Revenue Authority (GRA) to intensify tax education, especially among the informal sector workers.
He said effective tax educaton to will increase the tax compliance and address incidents of tax evasion.
A few weeks ago, some traders at the Kumasi Central Market kicked against what they described as astronomical tax estimates submitted to them by tax officers.
Advertisement
Traders who previously paid 500 Ghana Cedis are now having to cough up 1, 300 Ghana cedis for the 2017 tax assessment.
It took the intervention of the Ashanti Regional Minister to stop the traders from a planned demonstration to register their displeasure.
The Asantehene believes such misunderstandings can be addressed if education is intensified.
He said the tax collecting agency should embark on tax payer education and ensure that those in the lower brackets of the society also pay their due shares.
The revenue agency was unable to meet its mid-year budget set, but officials at the GRA are optimistic of meeting the target by end of year.
Meanwhile, board chairman of GRA, Harry Owusu explains the agency will enforce tax obligations.
He spoke to Luv Biz when the new board of the Ghana Revenue Authority paid a courtesy visit to the Asantehene as they assume office.
"We used him (Otumfuo Osei Tutu II) as a proxy to touch base with tax payers...If you do not educate them they will see the need to pay taxes but we go through all the motions to sensitise them about the need to pay taxes and on time too," he said.
According to him, although the tax net is very wide to catch all the fishes in it has been the problem.
"We have something we call the underground economy, too many people operating businesses in the country who are not paying taxes.
"And when we want to enforce the rules they misinterpret it either out of ignorance or out of mischief and try to incite other people who might be prone to pay taxes not to pay".
Mr. Owusu revealed that GRA will strengthen its mode of operation to enforce tax obligations either through applications of sanctions, prosecutions or locking of shops and others measures that may be considered unpleasant.