Edward A. Ulzen Memorial Foundation (EAUMF) Donates to Elmina Urban Health Centre.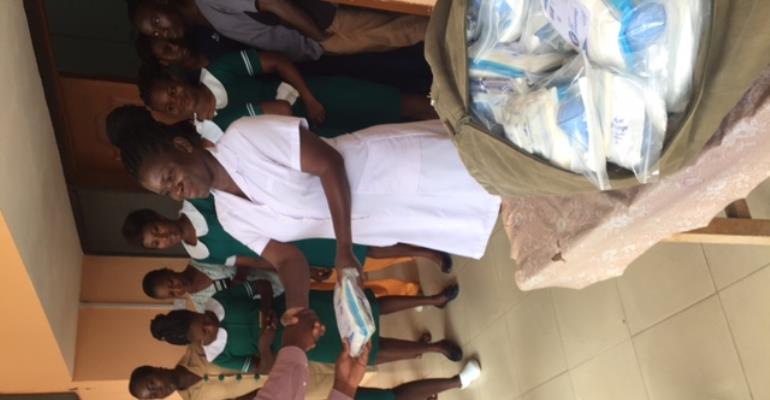 After a month of volunteer work with pre-medical students of the University of Alabama in 3 health facilities in the KEEA District, Prof. Thaddeus Ulzen, Chairman of the Board of EAUMF donated 50 maternity delivery kits to the Elmina Urban Health Centre, on behalf of the Edward A. Ulzen Memorial Foundation and Dr. Alex Twum – Boafo of the Kwakwaduam Association of New York.
The use of the kits will help reduce infections and other post-delivery complications for mothers who give birth at the health centre. EAUMF was established in 2005 and has facilitated the work of over 200 health care volunteers in the district since then. These volunteers have included medical specialists, nurses, pharmacists, dental professionals, nutritionists and pre – health students in those and other disciplines.
EAUMF has also sponsored numerous local youth in tertiary education institutions in Ghana, including one recently graduated physician who will be serving the district for 5 years. The foundation also operates the Elmina – Java Museum a cultural landmark in the Elmina area. EAUMF is named for the late Edward A. Ulzen, an educationist from the Elmina area who was the first Registrar of Kwame Nkrumah University of Science and Technology, early in his career.
In receiving the kits, Dr. John Ekow Otoo, the Medical Director of the Health Centre reminded the staff of the many years of collaboration between the foundation and the health centre and expressed the desire to expand the scope of the partnership between the two organizations.
Prof. Ulzen is Chair of Psychiatry and Behavioral Medicine at the College of Community Health Sciences, University of Alabama, Tuscaloosa and part-time Professor at the University of Cape Coast School of Medical Sciences, Cape Coast
Source: www.eaumf.org ; email: [email protected] ; Twitter: @elminajava