30 July 2017
|
Press Statement
Why Must We Be Neglected By Our Own??
Unemployed Education Graduates Alliance (UEGA)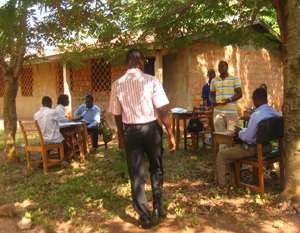 We, the Unemployed Education Graduates Alliance (UEGA) by this release ,express outmost displeasure and disappointment in MOE and GES for having refused to make provisions for us to be recruited to practise our profession. As conscious citizens who wish to contribute our quota towards the general growth and development of this dear nation, we went to read education related programs at the country's public universities after SHS hoping to be offered the opportunity to impart positive attitudes, knowledge and skills to the younger generation.
However, for about five years now, the Ghana Education Service (GES) and the government through Ministry of Education (MoE) have deliberately refused to pay significant attention to the plights of Unemployed Graduate Teachers in the country and we believe this unkind gesture by the GES and MoE is not helping in promoting quality education that the country hopes for.
We also believe that this is an attempt to deprive us our right to employment. To demonstrate our ability and willingness to conform to law and order, we humbly petitioned the Ministry of Education (MoE), Ghana Education Service (GES) and the Ministry of Employment and Labour Relations on the 21st February, 2017 highlighting our grievances for immediate remedy even at the point when we were in the position which demanded radical yet harmless approach to channel our grievances.
It is however, heartbreaking to underscore that none of these ministries actually accorded our petition the needed consideration it demanded. At the Ministry of Employment and Labour Relations, we were told our petition could not be traced after having visited the Ministry on two occasions.
The MoE although registered our petition and gave it to the secretary to the Minister, no one could tell whether the Minister actually received our petition ot not. We requested for a meeting with the Minister but we were made to understand that, only the minister could call for a meeting with us but not the other way round.
On the 3rd April, 2017 however, the secretary accepted our letter to the Minister requesting to meet with him but we never had the chance to meet him. Perhaps, the office of the Minister is yet to fix a date to meet with us.
GES on the other hand gave us hope of employment upon our second visit to the office. We were instructed to submit all our documents and application letters for postings. In fact, we were filled with great joy and hopes when we heard this promising news from the Ghana Education Service.
GES assured us that our documents would be given the needed consideration so that we shall be posted to the schools that need our services. Nonetheless, several weeks after the submission of our documents, we were told GES is not doing any recruitment now hence, we should only expect postings when it becomes obvious that the Ministry is ready to recruit new Graduate Teachers.
Our major concerns therefore are that;
When exactly will MoE and GES recruit graduate teachers?
Must we wait for another year to pass by before recruitment will commence?
What baffles our minds is that, whenever we call the authorities of MoE to ask when graduate teachers recruitment will be done, they refer us to GES. We ask again that, when will these referrals bring a lasting remedy to our plights?
Just recently, our sister union AUTTG had a press release of which one of the media had an interview with the PRO of GES in the person of Rev. Jonathan Attakuma about the plight of university graduate teachers. The PRO said that they are seeking financial clearance and that we should exercise restraint. Until when must we exercise restraint?
If truly GES and MoE do not need the services of Graduate Teachers in the country again, why do they still allow universities in the country to admit students to study degree programs in education and train them to be professional teachers?
We won't travel to any country to seek for greener pastures. Greener pastures are also here in our motherland so our leaders should make it available and fruitful for us. We won't travel outside the country and use the knowledge and skills acquired at the nation's universities to be cleaners, nannies etc. and to be maltreated in someone's country.
We are therefore by this our second press release, giving the government, MoE and GES two weeks ultimatum to start processing for our recruitment. Unemployed Education Graduates Alliance (UEGA) has never planned of going on demonstration. We have waited for so long. The 2016/2017 academic year has ended and a new one – 2017/2018 academic year is about to begin and we implore the government through MoE and GES to recruit us now. As earlier stated, we have not wiled for any demonstration but "change when it is denied or too long delayed violence will breakout here and there; not that men planned or willed it but their accumulated grievances will erupt with volcanic fury" (Osagyefo Dr.Kwame Nkrumah)
We therefore implore the government, through the Ministry of Education and Ghana Education Service to recruit us now before the unexpected happens.
Signed
Asamoah Richard
National Secretary (0546076918)
Wallis Kobea
President (0244941240)
Mark Donkor
P R O (0554024274)
Hamza Ibn Abdullai
National Organizer (0207605896)
Bismark Karikari
Ahanti Regional Rep (0242975336)
Sulemana Sualihu
Northern Regional Rep (0242521706)
Alex Nkansah
Central Regional Rep (0207132124)
Abdul Majid Issah
Western Regional Rep (0241109119)
Atanga Stephen
Upper East Regional Rep (0248959029)
Jaque Jordan
Volta Regional Rep (0247127027)
Frank Adomako
Upper West Regional Rep (0243808263)
Isaac Ohemeng Yeboah
Eastern Regional Rep
Bonto Osei Aikins
Greater Accra Rep (0242531593)
Frank Brain Addai
Brong Ahafo Regional Rep