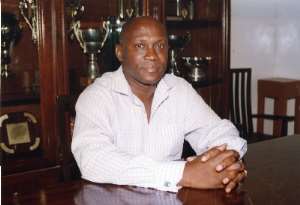 The Board of AshantiGold under the chairmanship of Mr. Daniel Owiredu has appointed a five-member committee headed by the CEO of AshGold Capt. Andy Sam during an emergency meeting held at the club's Secretariat on Wednesday 1st June 2005.
The members comprise Capt Andy Sam CEO of AshGold, Mr. Kwesi Anane Information Systems Manager AGA, Mr. Clement Donkor, Mr. John Williams Estate & Welfare Superintendent AGA, and Mr. Tony Woode former National Supporters Chairman. According to Mr. Kwesi Anane in an interview on a local FM Station, Shaft FM, he said the committee has been tasked by the Board Chairman to support the works of Capt. Andy Sam. He stated that the formation of the committee would relieve the CEO of his huge burden of the club and also promote brainstorming to the progress and development of the club.
According to Mr. Anane, their performance would necessitate the Board Chairman to either confirm the committee or dissolve it.
He reiterated, "we have been assigned a Herculean assignment and we have to live up to expectation." He urged the fans to calm down and support the direction of the management committee in order to achieve the stated goals of the club.