Govt urged to pay monies of exempts early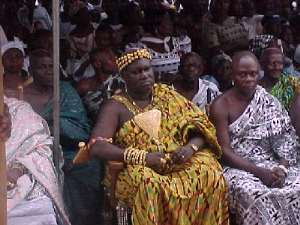 The Omanhene of the Sunyani Traditional Area, Nana Bosoma Asor Nkawie II, has appealed to the government to expedite payments of monies of exempts (above 70 years and below 18years) of the National Health Insurance scheme so that the scheme can run smoothly.
He noted that if the monies are not made available early, it may force the administrators of the scheme to use monies from contributors for the exempts.
Nana Asonkrawie II implored all Ghanaians to develop a positive attitude towards the NHIS to make it a big success.
He also urged citizens of Sunyani to work diligently towards the development and upliftment of the municipality.
The Omanhene made the call when a seven member delegation from space fm led by the Director Mr.Ransford Antwi paid him a courtesy call on the occasion of his 59th birthday.