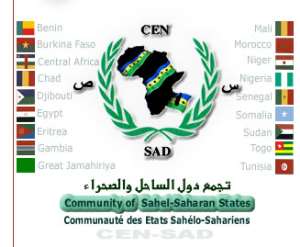 Ouagadougou, June 1, GNA - Ghana on Wednesday joined the Community of Sahel-Saharan States (CEN-SAD) as the 22nd member. Her admission was made at the on-going two-day 7th Ordinary Session of the Conference of the Leaders and Heads of State of CEN-SAD in Ouagadougou, Burkina Faso. President John Agyekum Kufuor who led Ghana's delegation to the Conference, assured the Community that Ghana would undertake her responsibilities within the organization with dedication and utmost commitment. He said: " as African nations, we must endeavour to remain resolute in our efforts towards closer co-operation and integration of our economies." President Kufuor said increasingly, globalisation was bringing into sharp focus the vulnerability of the small and fragile economies on the African Continent and the futility of attempts to solve their manifold but common problems on individual country basis. "The current and pressing demand is for us to seek common and innovative solutions to these problems and the urgency of this need has never been greater," he added. President Kufuor said fortunately, the New Partnership for Africa's Development (NEPAD) Initiative had provided Africa with a new vision as well as new strategies, policies, programmes and mechanisms. He said these had been developed on the Continent by the Leaders to promote good governance, economic development of member states and the reduction of poverty and under-development. "CEN-SAD complements the efforts of the African Union (AU) and provides a vehicle to champion the laudable cause espoused under the NEPAD Initiative," he added. On peace and security on the Continent, President Kufuor said the hitherto bleak picture of the security situation was gradually fading, which indicated that, there was hope on the horizon for Africa. He said, " we must therefore, strive to develop in a spirit of solidarity and brotherhood by harnessing our full resources towards achieving the ultimate goal of a united, peaceful and prosperous Africa."
CEN-SAD with its headquarters in Tripoli, Libya was established on February 4, 1998 to accelerate the economic development of its members, serve as a building block for the achievement of the African Common Market.
It was also aimed at developing the agricultural sector, upgrade and promote water management and also foster peace, security and stability in Africa.
President Kufuor had since returned home.