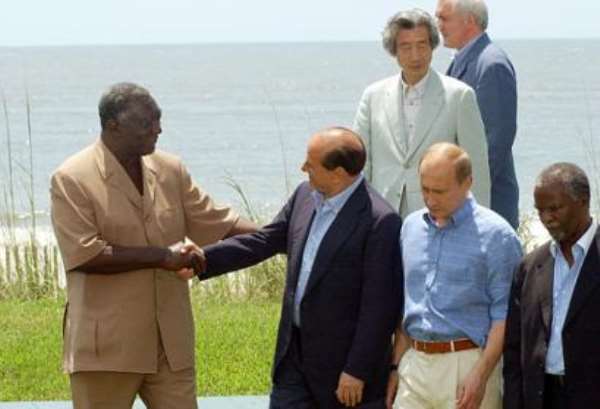 Accra, June 1, GNA - The Italian government has cancelled Ghana's total debt of 41.77 million dollars owed her since independence. This follows the signing of an agreement cancelling the final debt of 27.2 million dollars in pursuance of the Paris Club Agreed Minutes signed with the participating creditor countries under the Highly Indebted Poor Countries (HIPC) Initiative. The cancellation follows Ghana reaching the Completion Point under the HIPC on July 13, 2004. It also falls under the granting of the Multilateral Agreement by the Paris Club to Ghana on July 22, 2004 on the cancellation of the foreign debt stock. Mr Kwadwo Baah-Wiredu, Minister of Finance and Economic Planning, signed for Ghana while Mr Giancarlo Izzo, outgoing Italian Ambassador, signed for his country.
He said Italy was also extending additional relief in conformity with Italian domestic law that brought debt cancellation to 100 per cent for commercial loans covered by Italian development agencies, Servizi Assicurativi Del Commercio Estero and 100 per cent soft loans by Mediocredito Centrale.
Mr Baah-Wiredu described Ghana's relationship with Italy as fruitful, especially in the 1980s when it gathered momentum with the introduction of food aid programmes, which not only generated counterpart funding, but helped to meet the country's food balance account.
The programme, which was suspended for a while, was revisited in 2002 and generated a modest contribution of three billion cedis to the Ghanaian economy.
He praised Mr Izzo's tireless efforts at boosting Ghana's development in the rural areas citing the 10 million euros loan for the development of the small and medium enterprises in Ghana as the most memorable.
Mr Baah-Wiredu said the money would assist Ghana pursue sustainable development within the context of the National Poverty Reduction Strategy.
Mr Izzo said the cancellation put his country at the international forefront of bilateral debt cancellation initiatives as a means of poverty reduction and made it possible to cancel 100 per cent of all the remaining debt for both commercial and soft loans.